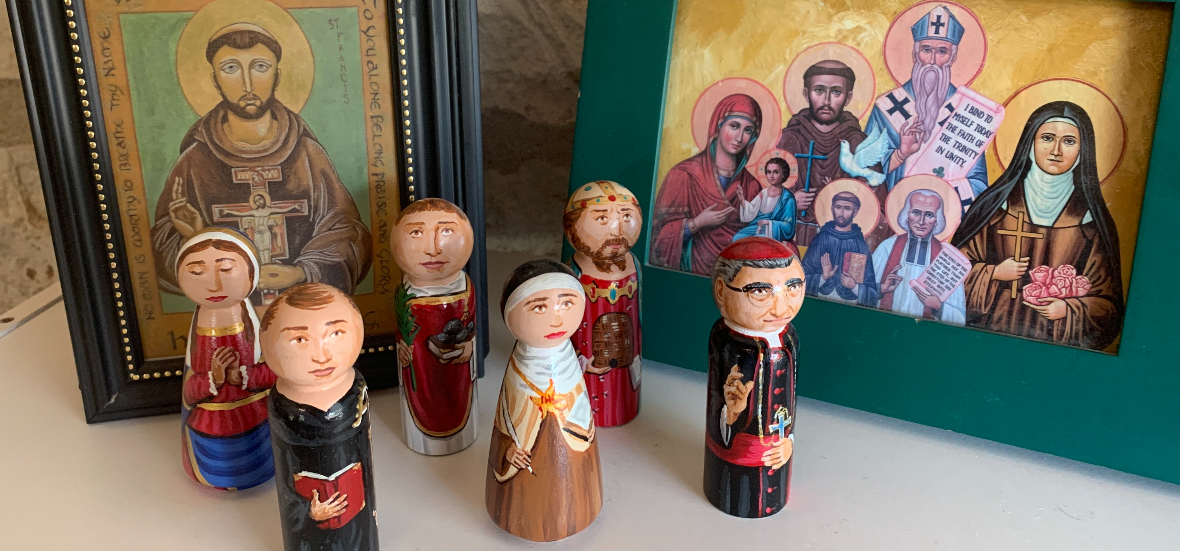 Christy Wilkens shares simple ways for families to cultivate friendships with their heavenly namesakes, on All Saints Day and all year 'round.
All Saints' Day, November 1, is right around the corner. It's a fantastic holiday in the Church year, an opportunity to celebrate the stories of all our favorite historical Christian paragons of virtue and love.
On the feast of All Saints (which is a holy day of obligation, so heads up: attend Mass if your local COVID restrictions allow!), the Litany of the Saints is part of the prayers of the Mass. We find the rhythmic chanting of names, passed down and elongated over thousands of years, to be a comfort, an invocation of the power of love over ... well, everything.
But you don't have to wait for that one Mass to do it!
The saints are heavenly friends to be called upon at all times. Here are a few ways to integrate those relationships into your regular prayer practice.
Recognize the saint of the day after every table blessing.
Right after "from thy bounty, through Christ our Lord, Amen," go ahead and roll right into, "Saint Polycarp …" Let your children respond "Pray for us."

Bonus: when they hear the Litany of the Saints at Mass, they'll know what to do!
Pray the Litany of the Saints anytime.
It's not just for November 1st! This cloud of witnesses is always listening, sitting before the throne of God and ready to intercede for us.

You can find copies easily online by searching for "Litany of the Saints," like this PDF from Divine Mercy for America or this online version from Catholic Culture. Hand out enough copies for everyone to follow along.


Craft a family-specific Litany of the Saints.
Our children all bear the name of at least one saint — I'm betting you have at least a few namesakes in your own family as well. These saints have a vested interest in your family's spiritual growth, so take advantage of that natural relationship!

An easy and effective way to help your children cultivate friendships with their namesakes is to call upon them, just them, specifically and often. Maybe St. Polycarp isn't your guy, but St. Jerome is. Name him and claim him!

Create a simple document with your family's surname at the top and your family saints listed Litany-style down the page. Wrap it all up with the simple closing prayer, "All you holy men and women, pray for us!" Print it out and give it pride of place on your prayer table.


Celebrate your family saints' name days.
In our family, we either have a special food or dessert that relates to the saint (for example, we love Pan de Santa Teresa for October's feast of St. Teresa of Ávila). We talk about what made that person a saint — the short answer is always "She followed God's will for her life with heroic virtue," but the longer answer of how God's will looks so different in each life is an important lesson.

If a feast feels like too much, even a simple blessing can make a name day feel special. The USCCB offers a beautiful one in Catholic Household Blessings and Prayers. It begins:


God of glory,
whom we name in many ways,
when we brought this child to your Church
we were asked, "What name do you give this child?"
We answered, "N."
Find the full name day blessing at USCCB.org.


CLICK TO TWEET
The saints and their stories are a great gift to the Church. #catholicmom
The saints and their stories are a great gift to the Church, one of the treasures that sets us apart from many other Christian denominations. Don't let the year pass by without getting to know them!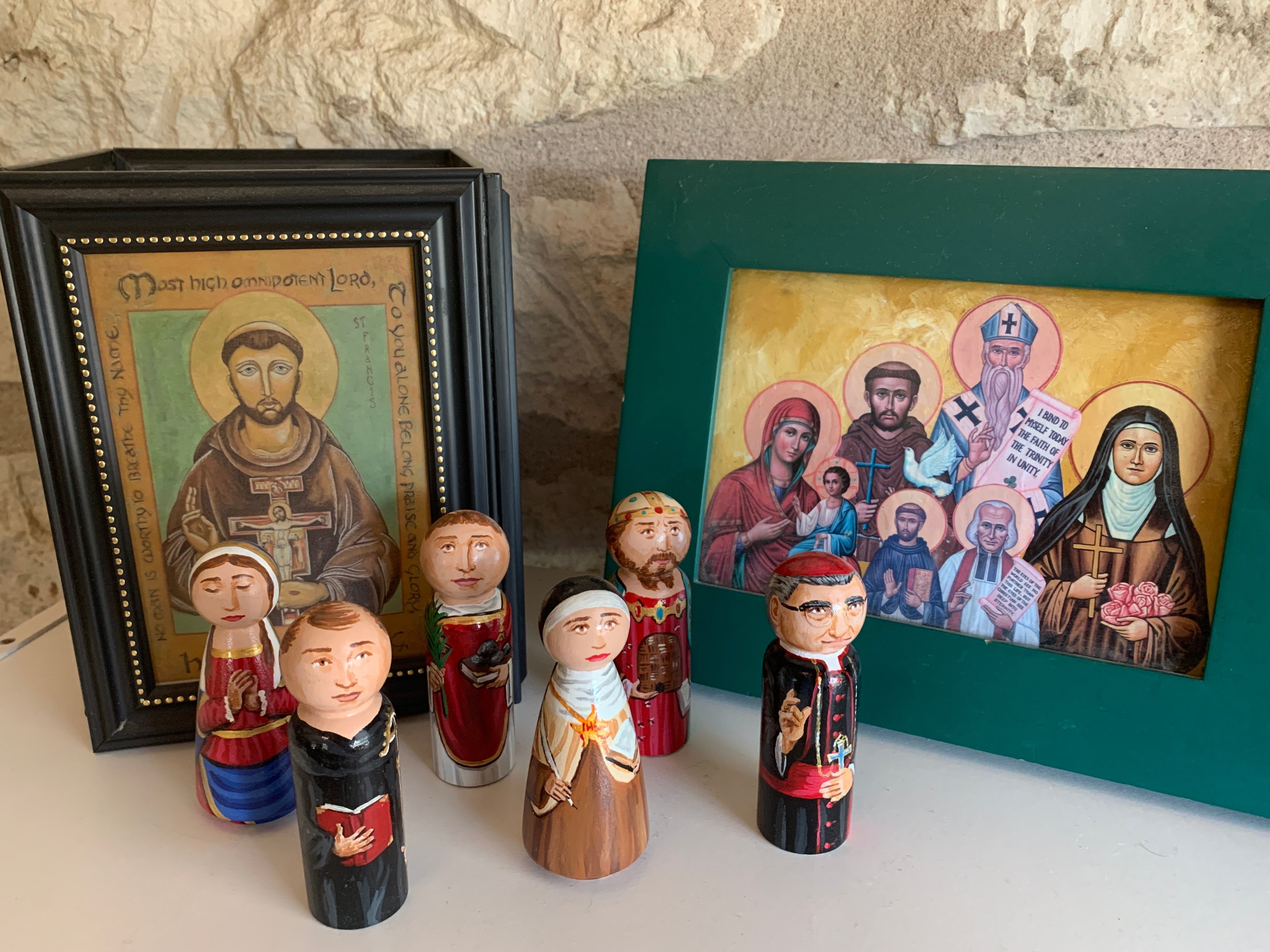 ---
Copyright 2020 Christy Wilkens
Image copyright 2020 Christy Wilkens. All rights reserved.
About the Author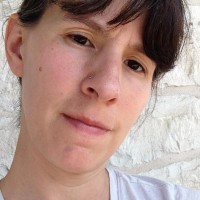 Christy Wilkens, wife and mother of six, is an armchair philosopher who lives in Austin, TX. She writes at FaithfulNotSuccessful.com about disability, faith, doubt, suffering, community, and good reads. Her first book, Awakening at Lourdes: How an Unanswered Prayer Healed Our Family and Restored Our Faith, a memoir about a pilgrimage with her husband and son, will be released by Ave Maria Press in 2021.