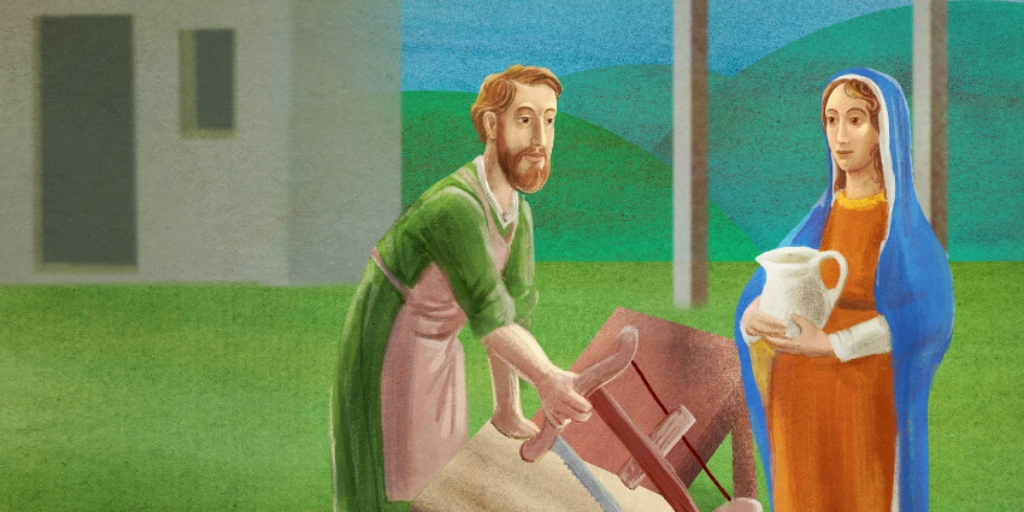 Susan Wallace shares a Visitation moment from her life that changed her perspective, and ponders St. Joseph's model of peace and persistence.
Sharing. We see young children not wanting to share their toys, but we adults have our struggles with sharing as well. Sometimes in unexpected ways. At this time in my life, it would seem that sharing would not be an issue; however, I think it is a challenge all our lives. However, through sharing, both the pain and the joys, we grower closer to each other with the grace of God.
When I was a young mother, I encountered significant struggles in my life that began with the death of my second child, Marcy Anne, when she was five weeks old. It was, of course, an extremely difficult time. My marriage ended. I was bereft. I was struggling to get through each day. My first child, Leanne, was three years old at the time and she was my reason to get up and get going each day. I was going through the motions and trying to find my way.
My family was so supportive. They knew when I needed to be alone, when I needed someone to listen, and when I needed help. I will quickly admit, I did not "want" help. I felt I was an adult and should be able to manage my life on my own. Imagine. I was 27 years old, had just lost a child, my marriage ended, I had to sell the "dream home" we built and was soon going to need to get a job. And, I thought I "should" be able to manage all this on my own. I truly believed that I should be able to handle everything that was happening and I felt like a burden to my family because I couldn't.
My mother sat with me one difficult day and explained that she and my dad, and all my family, were struggling with me. They were mourning with me. They needed to share the pain with me. By allowing them to help me, I was allowing them to put their prayer into action. In fact, she told me, I was giving them a gift by sharing my struggles with them.
This was definitely a very startling new perspective on being a burden to my family. My mother's wisdom in a millisecond changed the entire dynamic for me and my family. That brief visitation moment changed many moments to come. I embraced the support of my family. We actually found some joy in life when I thought I would never experience joy again. I allowed them to love Leanne as much as I did. I did not have to do it all. I allowed them to love me. I had to let go of my possessive, protective love for Leanne and allow others in for Leanne's benefit and, ultimately, for mine.
It was during this time in my life that I began getting closer and closer to the Blessed Mother. It was when I began praying the Rosary. I knew Mary knew my suffering. I knew she had words of wisdom just as my earthly mother did. It was providential that I was growing my relationship with the Blessed Mother as a short time after my own mother died unexpectedly. I, and I think my family, thought I would fall apart when she died. But I didn't. I was stronger in my faith. I was more confident in the grace of God to see me through. I did have my moments, but I did not despair. God, through my relationship with the Blessed Mother, lifted me up unexpectedly during this time.
Over the years, my love of Mary has also opened my eyes to reflect on Joseph as well. I think about how his life was not the "white picket fence" kind of life either. I can imagine Joseph had his plan. A young man thinking about his future, planning to get married and start a family. His acceptance helps me understand the peace we can gain through the grace of God. How does one love, guide, and protect the Mother of God and the Son of God? Through prayer. Lots of prayer. So, I too will follow his model. Prayer for peace and persistence through all the struggles. Prayer of thanksgiving for the joys. Always sharing both through the grace of God.
Today, my daughter, Leanne, is the mother of two boys. Her husband, Andrew, is kind and generous and shares his family with me abundantly. My sisters, his parents and sisters, so many of us share these two adorable children. I continue to pray and to learn to love without possessiveness. We are truly blessed.
Click to tweet:
Joseph's acceptance helps me understand the peace we can gain through the grace of God. #catholicmom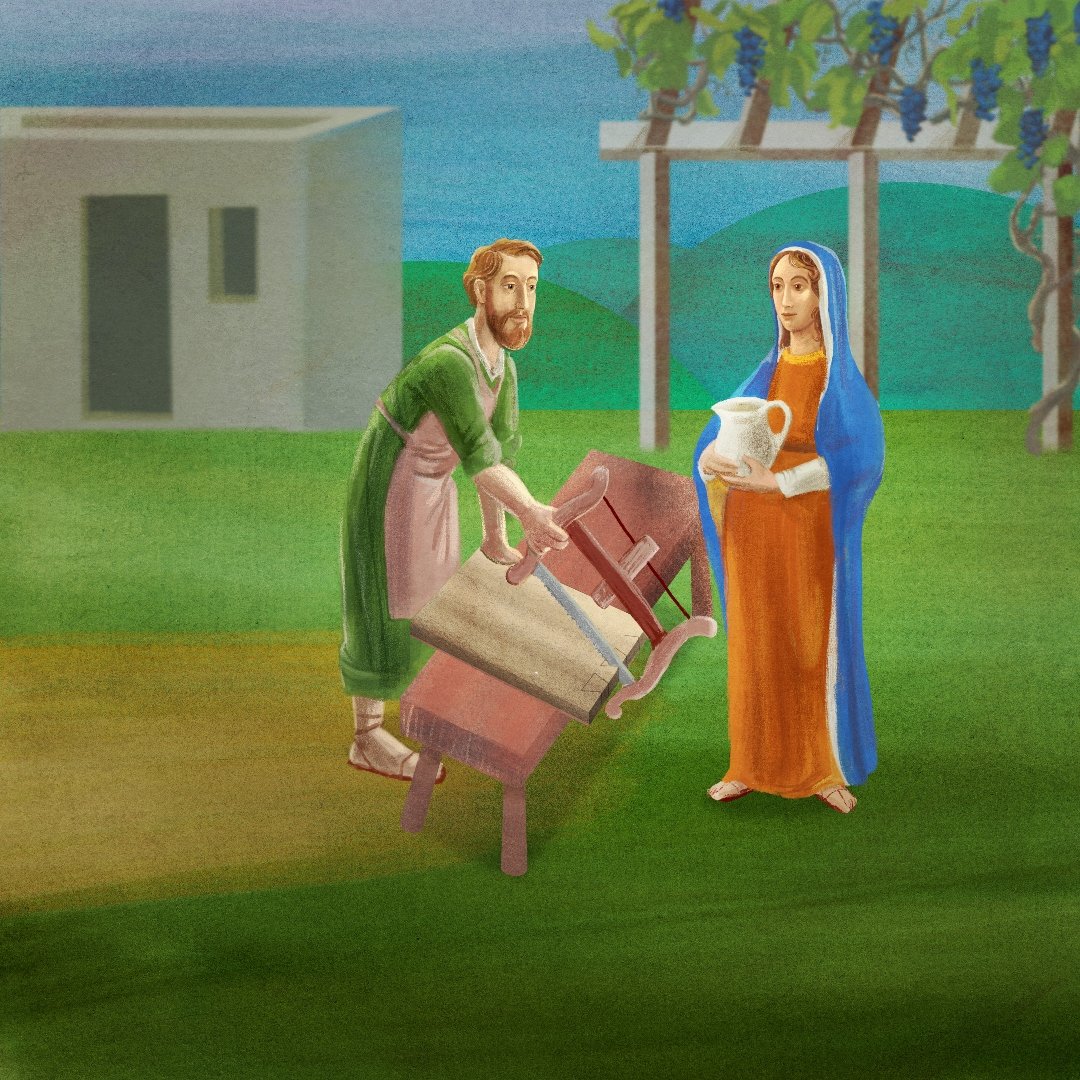 Reflecting today on the Memorial of Our Lady of the Rosary, I give thanks to God for the gift of Our Mother Mary. As I give thanks, I'll pray a meaningful Scriptural Rosary to go deeper as I continue to learn from Her, grow closer to God, and closer to my family.
"My soul proclaims the greatness of the Lord; my spirit rejoices in God my savior.
For He has looked upon His handmaid's lowliness; behold, from now on all ages will call me blessed.
The Mighty One has done great things for me, and holy is His name." (Luke 1: 46-49)
This article is part of the "Through the Eyes of Saint Joseph" series for the Month of the Rosary.
Pope Francis offered the faithful his Apostolic Letter, Patris Corde (With a Father's Heart.) to enlighten us during this special year of Saint Joseph.
This October, the Month of the Rosary, "Go to Joseph." Grow in the faith with your family. "Be about the Father's business." (see Luke 2:49)
Joseph is our inspiration throughout the month of October, we will be reflecting, praying, and encountering The Mysteries of the Rosary through the eyes of St. Joseph.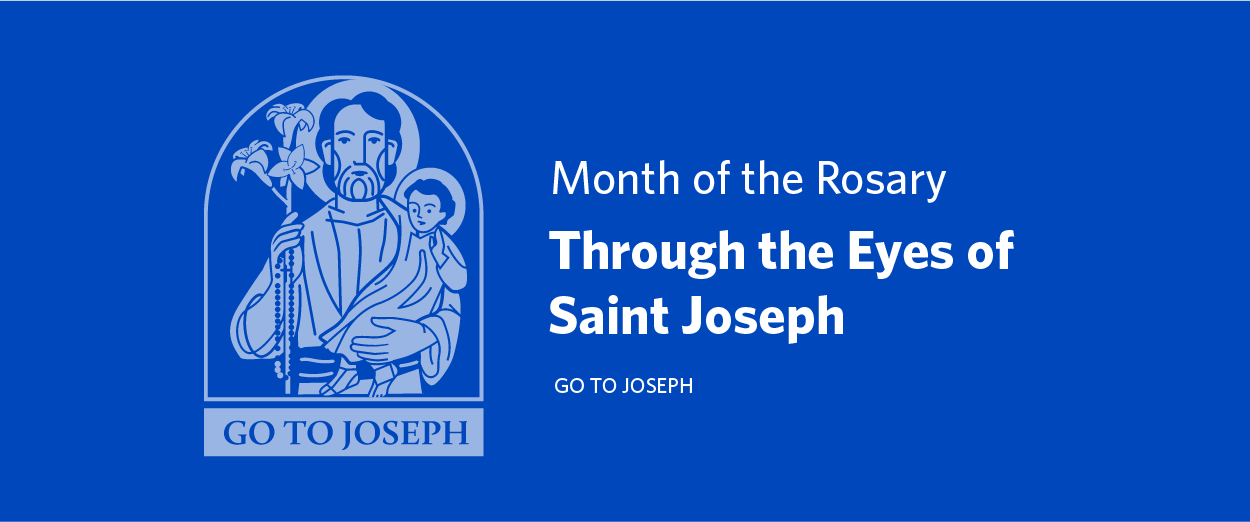 ---
Copyright 2021 Susan Wallace
Images copyright 2021 Holy Cross Family Ministries, all rights reserved.
About the Author