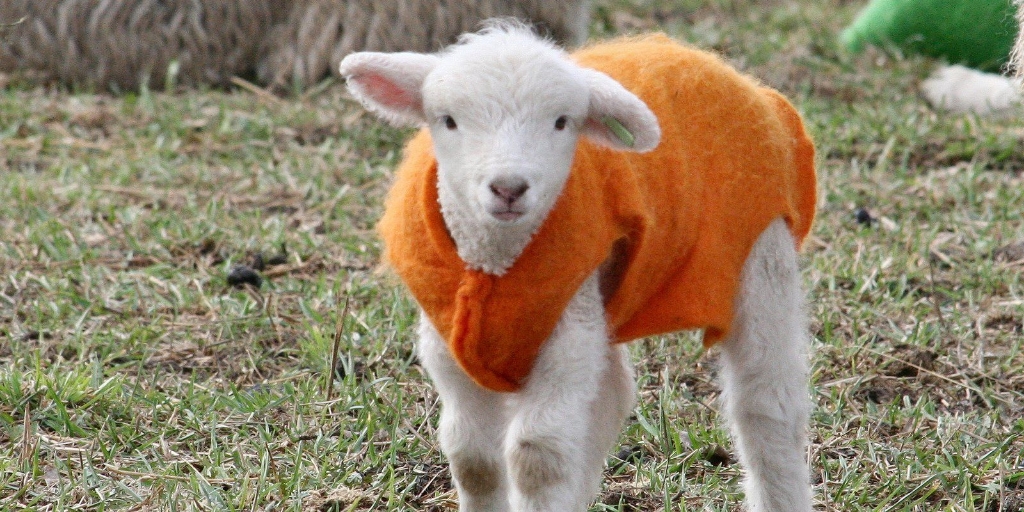 Disappointed in what was advertised as the perfect pair of leggings, Nicole Johnson considers how we are called to clothe ourselves in virtue.
We were scammed, swindled, gypped, hornswoggled (my personal favorite). Thankfully, it wasn't anything major. The bamboozlement (is that a word?) was over a pair of leggings. According to the ad that kept popping up on my Instagram feed however, they were no ordinary leggings. This particular design was one of a kind, lined with furry, warm comfiness from waistband to ankle, while maintaining the necessary stretch and slimming attributes one has come to expect from these genius pantalons. Let me be clear. I am all about warmth and comfort, and if I can have both while still remaining decently stylized, well, that's a home run in my personal apparel ratings.
Without even being aware that I was secretly coveting these magnificent-looking gems, my husband (yes, he knows me well) ordered me a pair for Christmas. Lucky for him, I'd take warmth and comfort over diamonds any day. They arrived a few days late (problem #1 -- not making the promised Christmas deadline). I was so excited about what emerged from the mystery package, yet my husband and I both immediately noticed the significant, considerable, downright comedic difference between the product that was advertised and the product I held in my hands.
Always the optimist, I headed upstairs to try them on, hoping perhaps the thick, furry lining that was clear in the ad needed just to be activated by body heat? Not only did these things not magically grow superfluous amounts of heavenly fluff when applied, they made it just past my knees and could literally go no further. It wasn't that the legs were too short even, but that the inseam was made for the likes of a troll. I lumbered my way downstairs, unable to bend my knees at all from the restrictive material and made the sad announcement to my husband that they would have to be returned.
"Are you sure?" he asked.
To which my blank stare, matched with the sight of leggings that went not even half way up my thighs, said all that needed to be said.
Come to find out, not only were we sent a product in stark contrast to what we thought we had ordered, upon receiving our bill, we realized we had been charged over and above the price of our purchase. Fast forward a few days and an email chain dead-ending with our third request for a full refund, and we quickly landed on a new year's resolution; never order anything from an Instagram ad.
Granted, in the scheme of things, this is all small potatoes -- very much so. However, in vacillating between being totally annoyed and feeling entitled to a resolution and realizing this was not worth my time and frustration, it did leave me with important questions as we begin this new year: What do I want to clothe myself in? What do I want to present to the world? To those I encounter each day?
There's always the big push come January 1 to proclaim your New Year's resolutions. Goals are set, confidence levels are high, and then the hard sets in and resolutions slowly take their place at the bottom of the priority pile. Lucky for us, the year offers 365 opportunities to begin anew.
CLICK TO TWEET
Just as the right color sweater can bring out the beauty of someone's eyes, clothing ourselves first in Christ brings out all He has so perfectly created us to be. #catholicmom
2020 did a banner job of beating us down, stripping from us all we knew to be normal and leaving us few tools to find our joy and happiness. There were so many moments when I found myself struggling and continually landing on the same question: What would I do without my faith? Understanding of, and deep belief in, the truth of how much I am loved, keeps me breathing, trusting that even when the path ahead seems overwhelming, every step is worth taking. My faith is the right outfit for every occasion. It is my suit of armor in times of fear or temptation. It is my warm and cozy sweater when I need to be wrapped in understanding and forgiveness. It is the sparkly shirt and heels when I am ready to celebrate the gifts around me and rejoice in being unconditionally adored. It is my softest PJs when I Just. Need. to. Rest.
Therefore, as God's chosen people, holy and dearly loved, clothe yourselves with compassion, kindness, humility, gentleness and patience. (Colossians 3:12)
Ugh. A tall order for sure. Clothe myself in compassion and kindness when it leaves me vulnerable? What about those moments when I don't feel like offering my understanding and I want to put myself and my needs first? Practice humility when I crave nothing more than the security of control? And, not for nothin', but I'm pretty sure I have a good take on what my family and I need. Clothe myself in gentleness and patience? I'm the mother of two teenage sons and a ferociously determined preteen daughter. On my own, I don't pretend I can do or be any of these things. On my own, I epitomize that defective pair of leggings; too short, inflexible and not at all what my family ordered.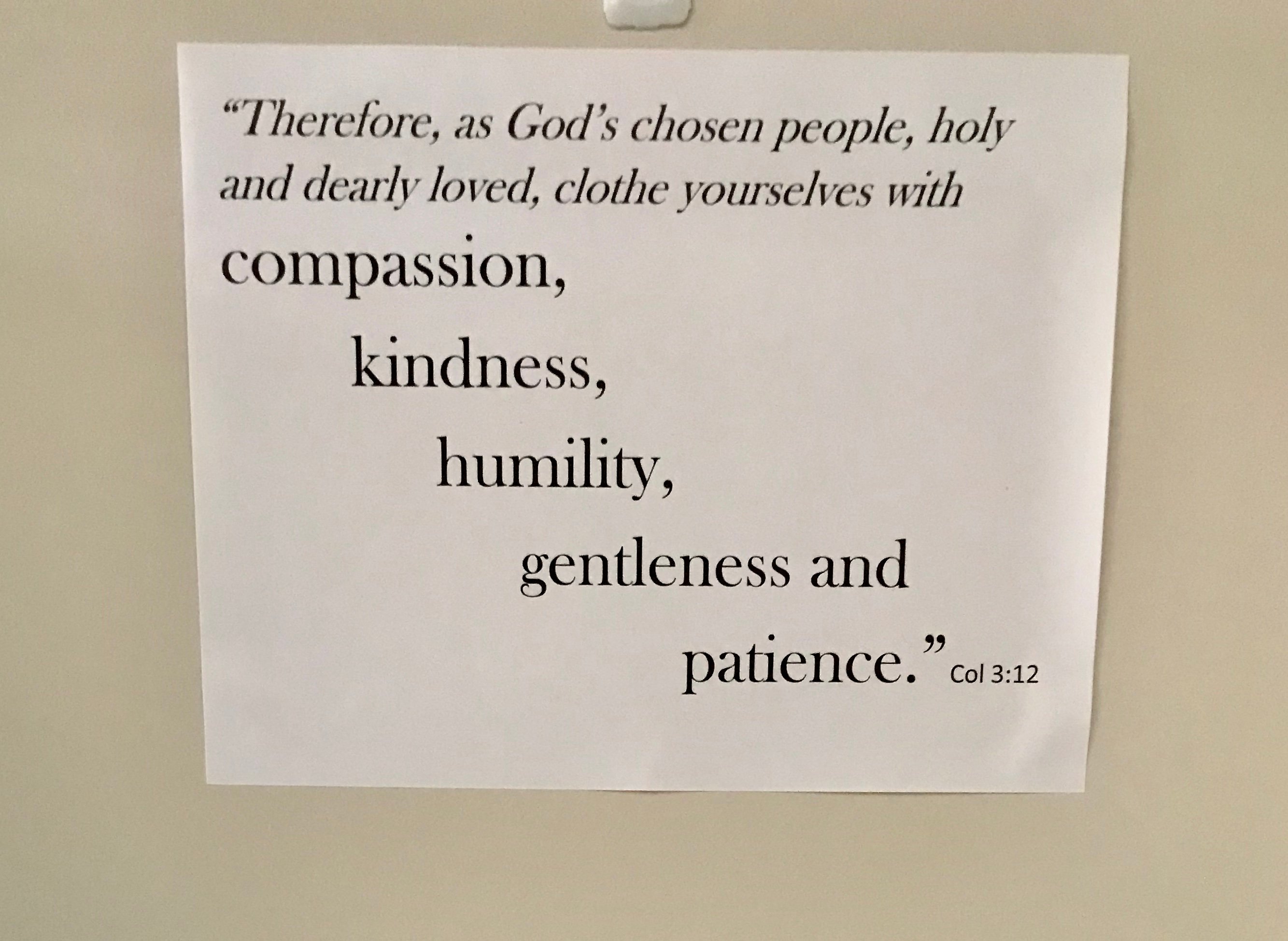 This is the sign that now hangs in my closet. It is my reminder as I get dressed each morning of what I truly want to clothe myself in. Just as the right color sweater can bring out the beauty of someone's eyes, clothing ourselves first in Christ brings out all He has so perfectly created us to be. I will fail and fail often, but every time I show compassion, every kindness I am able offer another and every time I can put my own anxieties and pride aside to let God take over, it is a step closer to fulfilling God's order in little old me, in my own little corner of the world.
---
Copyright 2021 Nicole Johnson
Images (top to bottom): Freeimages.com (2006); copyright 2021 Nicole Johnson, all rights reserved.
About the Author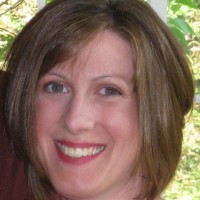 Nicole and her husband have been blessed with three children. Nicole markets the mission of a non-profit that provides early therapies for children diagnosed with developmental delays. She and her husband serve on the board for the New England chapter of Bethany Christian Services, a national adoption agency. Nicole's family advocates for life, adoption, and embracing children with special needs. Visit her blog at Joy in the Journey.