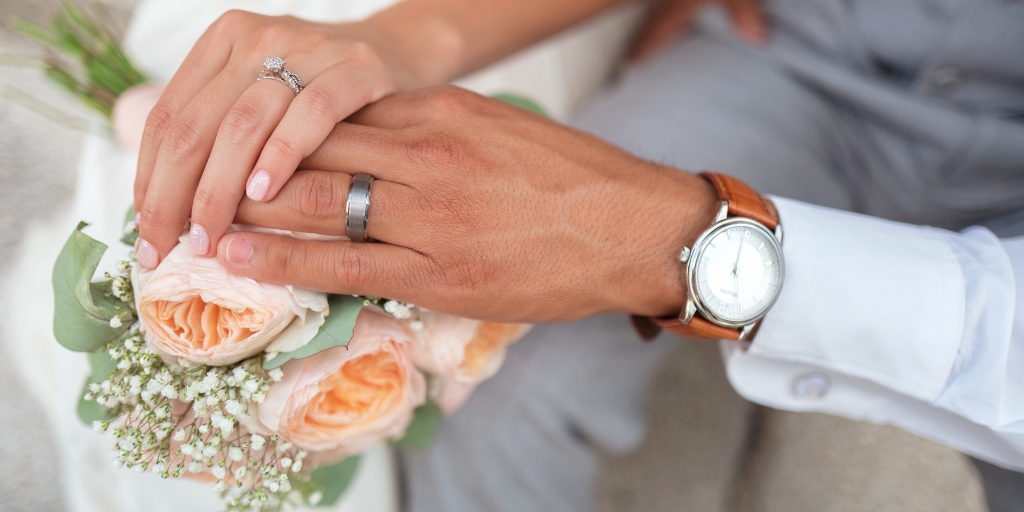 After 46 years of marriage, Ellen Mongan ponders the graces that come through this covenant of souls.
Spying on the Past
Poem by Amanda Mongan-Young
I see them eyeing each other across the room,
I see my mother, clad in tight shorts and naïve optimism
that can only thrive in the immature days of youth.

I see my father, medical books in one arm,
the burden of intellect and predictability weighing down the other.

I see the erratic gleam of impulsiveness in her eye,
as she flirts and teases and charms the opposite sex.

I see the intensity and ambition in the creases of his face,
he needs to discover and be discovered.

They are about to fall in love,
they are about to get married,
they are young, they are carefree,
all they know is this feels right,
they would not have it another way.

My mom hesitates; I want to go
up to them and say, MOVE AHEAD,
do it – he's the right man,
she's the right woman.

You are going to do things you never
dreamed you would do,
you are going to create beautiful children,
you are going to be happier than you imagined,
you are never going to want to leave each other.

I want to go up to them there in the
dying sunlight of early May and say it,
her long white dress and sun-streaked hair
tousled by the beachy breeze,
his piercing eyes and longing lips,
focused only on his bride,
but I don't do it.
I know they will make the right decisions.
I watch the doubted couple grab hands
and steal a thousand kisses.
I know many years from now, their wrinkled hands
will still rest in each other and
their lips will remember that first touch,
I say, Do what you are going to do,
and I will thank you for it.
My over-60 eyes always have tears in them whenever I read the poem my daughter Amanda wrote so long ago. This mission, if you decide to accept it, will bring you to the heart of God. On May 1, 1974, we accepted the mission. Almost fifty years ago at sunset by the ocean, Patrick and I joined our hands, hearts, and lives together. Patrick, with his boyish grin, and I, the flirt with Southern charm, became man and wife.
As we look back at what was, while living what is, we look forward to what is to come. Like the poem says, "We have done things we never dreamed of doing." We have created eight beautiful children, with the help of God. We have been happier than we ever imagined. Now our wrinkled hands rest in each other's hands. My lips will always remember his tender touch and our first kiss. He is the right man and I thank God I said, "Yes!" to join our lives in marriage. The cement that held our lives together all these years was God alone.
On the day we said our "I do's," we were unaware of just how opposite we were. If we had it wouldn't have mattered, we were so in love. As they say, "Love is blind!" Years into our marriage the King of my Castle fell off his pedestal. Suddenly the Queen of his heart found a voice. Reality set in, showing all of our imperfections. Life changed. A couple goes from falling in love to living in love to loving through Christ. Going from "ME" to "WE" in "HE" is a journey. Without God in the center of our marriage, it would be "Mission Impossible."
The carefree, immature days of our youth were soon traded for a houseful of children. Invisible for the eye to see was the sign on our door that said, "ALL ARE WELCOME!" A dinner party of 20 was a common occurrence. Sleeping was not an option. My triple-A personality with a perfectionist spirit left after the first 5 children in a little more than 10 years. Pat's "Privacy" sign was taken off the door of his heart as he embraced married with children and everyone who knocked on the door of our home. We grew and grew.
I must add that there was never a dull moment in our lives. We went from winging it to schedules, from kicking off our shoes at the beach to finding a child's shoes in our home. One good practical thing to learn in managing a large family: meeting everyone's needs was not a one-man job. All hands would have to be on deck. "Everyone is doing the best they can," said my son Tyler.
A couple goes from falling in love to living in love to loving through Christ. #catholicmom
As we look back on over 46 years, I must say there has been a bucket full of grace on our marriage from the day we said, "I do!" Even though I would love to proclaim that our marriage has been "smooth sailing" as Patrick and I danced under the moonlight with wine, roses, and a song, sharing kisses that never ended, it would not be true.
Instead, we learned that the most important part of a long committed marriage is the security of knowing that you can depend on your spouse to have your back. You can live secure knowing that your lives go deep and the roots of your marriage are cemented in Christ Jesus our Lord. That blessed assurance allows you to be free to each other and love your spouse wholeheartedly. It begins with surrendering your heart to Christ.
Marriage is a covenant you make to one another on your wedding day by giving your heart to your spouse without any reservations. This commitment of souls builds a trust that stands firm in good times or bad, in sickness or health, for better or for worse, and for richer or poorer. Keep your eyes on Jesus, be quick to forgive and ask forgiveness, and be other-centered. These are essential parts of a healthy marriage.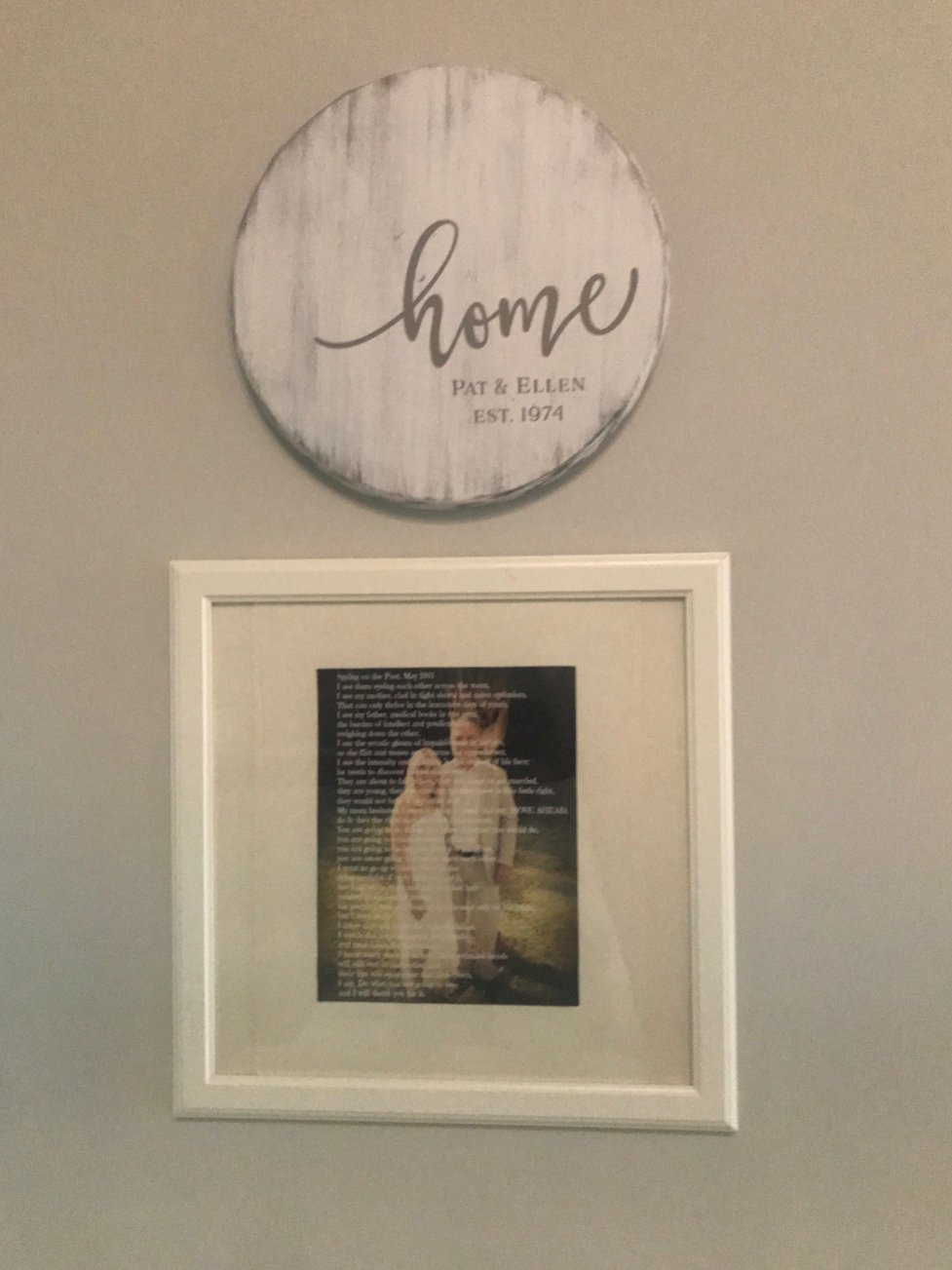 The decision we made on the wedding day to love each other no matter what has guided us through valleys of despair and to mountaintops of great joy. No matter what, we face life together with God's help.
Now our wrinkled hands, rest in each other, and they seem to fit a little better than in the early days. Our kisses are more meaningful and our touch more familiar than the first. His boyish grin has not faded, and my once flirtatious eyes now only have eyes for him.
I'm glad that I took a trip back in time this Valentine's Day as I remember "when" and spied on the past. As my mind raced back in time, I can almost hear God whispering in my ear, "Move ahead, do it, he is the right man." I can almost see God telling my husband in a whisper, "She is the right woman." I am glad that it happened that way. It was God's will all along. Gladly I would accept the mission all over again.
What is to come is the unknown. We are assured that "the two shall become one, and what God has joined together let no man put asunder."
---
Copyright 2021 Ellen Mongan
Images:
About the Author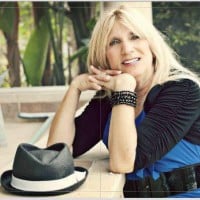 Ellen Mongan is a Catholic writer, speaker, and host of WOW MOM podcasts. Her book, WOW MOM: A Walk with God, is on Amazon. She contributes to Catholic Mom, Women of Grace, and Augusta Chronicle. Her most important roles as wife to Deacon Patrick and mother of eight led her to ministry. Learn more and contact her to speak at EllenMongan.com.