Receive Daily Gospel Reflections in your inbox
Today's Gospel: John 6:35-40 Do you believe Jesus? Right in the middle of His Bread of Life discourse, Jesus mentions that "although you have seen Me, you do not believe." He is offering us His flesh and blood so that we may be united with Him. What an amazing gift! However, not all believed His message and accepted His teaching. What about us? Do we accept the words of Christ? Jesus allows us to freely choose or deny His gift. What will we choose: to believe Jesus' words and accept His teachings wholeheartedly, or to leave Him and return to our comfort zones? Once when I was young, some girls in my dance class were chatting about what they did at their Protestant churches. "At my church, we drink grape juice!" said one girl. "At my church, we drink wine!" said another girl. Despite this great opportunity to share the words of Christ, the Catholic Church's teachings, and the gift of the Eucharist with my classmates, I remained silent. I thought about how awkward the situation might become if I piped in, "At my church, we drink Jesus' Blood!" Sp I let this fear of discomfort hold me back. If we believe Jesus, and if we choose to accept the gift that He offers, then we need to let this decision impact our entire lives. Though we may be afraid of getting into uncomfortable or awkward conversations, we can't hide away our beliefs. We can share joyfully about this gift that we receive at Mass. We can read about the Eucharist, about the Eucharistic devotion that the saints had, and about Eucharistic miracles. Finally, we can spend time in the presence of Our Lord and ask Him to transform us and help us strengthen our fervor, so that we will spend eternity with Him.
Ponder:
How will we seek to strengthen our devotion to our Eucharistic Lord?
Pray:
Jesus, I want to believe You, and grow to love You more. Please help me to grow in devotion to the gift of the Eucharist so that I may be more closely united to You.
---
Copyright 2018 AnneMarie Miller Receive CatholicMom.com newsletters in your inbox, including the Daily Gospel Reflection each morning!

*

indicates required
About the Author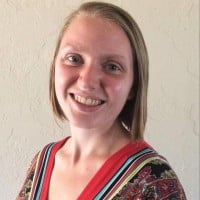 Eagerly seeking new adventures each day, AnneMarie enjoys life in Oklahoma with her husband and little boy. She has a passion for the Faith and particularly loves learning more about the Liturgy, saints, and various devotions. AnneMarie's musings on Catholicism, literature, and motherhood can be found on her blog, Sacrifice of Love.