Receive Daily Gospel Reflections in your inbox
Today's Gospel: John 6:51-58 - 20th Sunday in Ordinary Time Amen, amen, I say to you, unless you eat the flesh of the Son of Man and drink his blood, you do not have life within you. John 6:53 What does it mean to not have life within us? What kind of life is Jesus talking about? Certainly our relationship with Jesus is life-giving. His gift of the Eucharist is life-giving. Sometimes when I go to Mass, I do not even want to be there. I do not feel like participating. I do not feel like singing or making the responses. I just want to sit there. Quiet. Alone. I may be sad. I may be stressed. I may just want to be somewhere else. But soon I find myself participating. At first it may be automatic but soon there is an attitude shift. I notice it. A little at a time. The prayers. The readings. The music. All reach into my heart and mind and bring me back. By the time I go up for communion, I am fully present. Whatever was bothering me has gone into hiding. And then when I receive the Eucharist, I feel alive again. A new me. The person who walked into church has disappeared. And I know I have experienced something. Community certainly. Inspiration, sure. But there is something more. That something more is Jesus. His presence. His life-giving presence in the Eucharist. And I am reminded yet again, why I am Catholic. Why I go to Mass. Why I need Jesus. "If angels could be jealous of men, they would be so for one reason: Holy Communion." --St. Maximilian Kolbe
Ponder:
How do you experience the Real Presence of Christ in the Eucharist? Do you ever take the Eucharist for granted?
Pray:
Jesus, thank You for the gift of the Eucharist, the gift of Yourself. Help me to never take Your gift for granted.
---
Copyright 2018 Colleen Spiro Receive CatholicMom.com newsletters in your inbox, including the Daily Gospel Reflection each morning!

*

indicates required
About the Author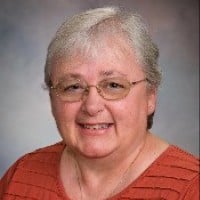 Colleen Spiro is a Catholic mother, grandmother and a deacon's wife. A certified spiritual director, Colleen loves to share her faith and encourage others through her retreats and writings. You can read her reflections at her website, Catholic Prayer Life.