Receive Daily Gospel Reflections in your inbox
Today's Gospel: Luke 2:41-51 Today we celebrate the feast of the Immaculate Heart of Mary, and we hear in the Gospel reading the finding of the Child Jesus in the temple. Of course, it is not at all a coincidence that this reading falls on this feast. The very last line of the Gospel reading says, "and his mother kept all these things in her heart." Isn't that just the way it is, though? As mothers, we keep all the things – the joys and sorrows, worries and fears, struggles and failures - in our hearts. Sometimes, it's a lot to carry. This Gospel passage is comforting for every mom who has been anxious over her child or felt helpless. It shows us a very human side of Mary. Though she was sinless and totally trusted God, she was anxious for her Son; the same way she must have been anxious for Him on the cross. Mary's anxiety shows us that we should embrace our human emotions, but always submit them to our faith and trust in God. Mary was anxious but she did not despair. We can follow Mary's lead here, too, and turn our own anxieties, particularly over the things we cannot know or control, over to Jesus with total trust. All the things we carry in our hearts as mothers, particularly all the anxieties, can lead us to two totally different ends: despair or humility. Let us choose to cling to Mary's Immaculate Heart and ask her to teach us to turn everything over to God, trusting in His Word.
Ponder:
What anxieties do you carry in your heart that you can hand over to Jesus?
Pray:
Jesus, please help me to balance my fears and emotions with my total faith in Your goodness. Mary, hold me in your Immaculate Heart and lead me to your Son.
---
Copyright 2018 Megan Swaim Receive CatholicMom.com newsletters in your inbox, including the Daily Gospel Reflection each morning!

*

indicates required
About the Author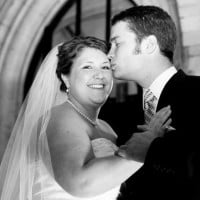 Megan Swaim is an Indiana girl on an east coast adventure. A former high school youth minister, she now gets to minister full-time to her three young daughters and her husband Josh. Megan spends her days homeschooling at the kitchen table, drinking iced coffee, and exploring coastal Virginia.