Receive Daily Gospel Reflections in your inbox
Today's Gospel: Matthew 1:1-16, 18-23 or 1:18-23 - Nativity of the Blessed Virgin Mary About a year after I moved from Kansas to Michigan, I met my husband and we fell in love. One day shortly after our engagement, I was at the grocery store in his tiny town and an elderly lady stopped me in the produce aisle. She asked if I was the woman who was going to marry the last Wohlfert boy. When I said yes, she asked the most curious question, "Who are your people?" Nearly 3 decades later, I remember that question each time I read the genealogy of Jesus and realize how very important our roots are. Today we celebrate the birth of Mary and we trace her amazing story all the way back to the humble beginning of her life on earth. Like looking back in a baby book, we look at the family who celebrated the beginning of that life. Today is not about the things that make Mary so different from us; it's not the Immaculate Conception or the celebration of her Immaculate Heart or Queenship. Today is the day we simply celebrate her beginning. Todays Gospel allows us to look back at her family; her people, if you will, because they are our people too. Mary's birth was a key part of the salvation story but her fiat wasn't demanded at that very moment. God gave her strong roots, beautiful obedience and infinite grace to prepare her for the work she would do later on. Looking back at her beginning reminds us that He will do the same for all of his children. Like Mary, we begin as a baby: dependent, helpless and small. As we celebrate Mary's birthday, may we remember that those are the things that allow Him to work mightily in our lives too.
Ponder:
In which areas of my life do I most need to imitate the obedience and trust of Mary?
Pray:
Lord, we thank You for the gift of our Mother Mary. We pray for her intercession this day as we try to imitate her obedience, her gentleness and her trust in You.
---
Copyright 2018 Sheri Wohlfert Receive CatholicMom.com newsletters in your inbox, including the Daily Gospel Reflection each morning!

*

indicates required
About the Author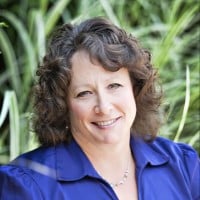 Sheri is a Catholic wife, mom, speaker and teacher. She uses her great sense of humor and her deep faith to help others discover the joy of being a child of God. Her roots are in Kansas but her home is in Michigan. The mission of her ministry is to encourage others to look at the simple ways we can all find God doing amazing things smack dab in the middle of the laundry, ball games, farm chores and the hundred other things we manage to cram into a day. Sheri also writes at JoyfulWords.org.