Receive Daily Gospel Reflections in your inbox
Today's Gospel: Matthew 18:1-5, 10 - Memorial of the Guardian Angels "See that you do not despise one of these little ones, for I say to you that their angels in heaven always look upon the face of my heavenly Father." Mt 18:10 I grew up without knowing my guardian angel. Raised in the Protestant religion, I did not even know guardian angels existed. I first learned about them when I married my Catholic husband and raised our children in the Catholic faith. Eventually I converted, but I never really thought I had my own guardian angel. So, what if you never knew you had a guardian angel? Do you still have one? I did not have a lot of religious instruction as a child. I grew up in a small town and often walked to church by myself. I preferred going to church over Sunday School. I learned more hearing the readings and the sermon. I really wanted to learn. I really wanted to know Jesus. Looking back, I have often thought that Jesus must have walked me to church. And maybe He sent me an angel to keep me company and watch over me. "What a comfort to you it is to know that when we go out of the house, we are never alone en route." - St John Vianney, Sermon on the Feast of the Guardian Angels
Ponder:
God loves us so much, he gave us a guardian angel to watch over us. Do you know your guardian angel?
Pray:
God, thank You for nudging me to go to church when I was just a little girl. And for sending me an angel to tell me You loved me.
---
Copyright 2018 Colleen Spiro Receive CatholicMom.com newsletters in your inbox, including the Daily Gospel Reflection each morning!

*

indicates required
About the Author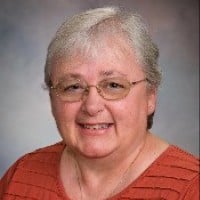 Colleen Spiro is a Catholic mother, grandmother and a deacon's wife. A certified spiritual director, Colleen loves to share her faith and encourage others through her retreats and writings. You can read her reflections at her website, Catholic Prayer Life and read or listen to her podcast at Finding God in the Everyday.