Receive Daily Gospel Reflections in your inbox
Today's Gospel: Luke 14:15-24 On a daily basis, it is easy to lose sight of the fact that our lives are about so much more than our routine, whatever that may entail: getting children to school, acting as a caregiver for others, the tasks that our jobs demand, making dinner and folding laundry. Indeed, our lives have eternal meaning. Every day, we make choices that will either bring us closer to, or farther from, our Creator. Ultimately, our goal is to be with Him forever in heaven. Even more importantly, God wants this for us even more than we may desire it for ourselves, given our human propensity to lose sight of the larger picture. In the Gospel today, Jesus shares with us a parable about a great feast. When the big day arrives, the invited guests begin to make pitiful excuses about why they cannot attend. Does this sound familiar? It certainly does to me! It reminds me very much of myself when I am justifying making a choice that will not bring me closer to our Lord. And how does the master react in our Gospel parable? He is upset, and asks his servant to go find others to come to his table. Further, he insists not only that others be found to take their place but that the table be FILLED. This part of the story struck a chord with me. God does not want any of us to go astray. He wants His house to be filled to capacity. As I go about my day-to-day responsibilities and leisure activities, I try to make good choices. I certainly fail sometimes, but the effort is always at the back of my mind. After all, God always wants me to be His.
Ponder:
How can I improve my discernment of daily choices to better reflect God's will for my life?
Pray:
Lord, I know that I often fail to listen to Your voice as I move about my day. Guide me in recognizing when You are speaking to me through others, and through the Scriptures.
---
Copyright 2018 Tiffany Walsh Receive CatholicMom.com newsletters in your inbox, including the Daily Gospel Reflection each morning!

*

indicates required
About the Author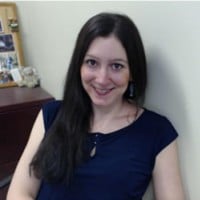 Tiffany Walsh is a wife and mother, a native western New Yorker, and a college librarian. She is a cradle Catholic who rekindled her childhood faith as a graduate student via her love of books, and is the author of Exploring the Catholic Classics, part of the Stay Connected Journals for Catholic Women series. She enjoys writing about faith, crafting, dance, fitness and wellness. Visit her blog at Life of a Catholic Librarian.