Receive Daily Gospel Reflections in your inbox
Today's Gospel: Luke 19:45-48 - Memorial of St. Cecilia In all things, Jesus wants us to be genuine -- to be sincere in our efforts to lead a holy life, to give proper worship to God, and to be kind and good to our neighbor. He drove out those who were trying to sell their wares at the temple, instead wanting the space to be used for its intended purpose of worship and prayer. Although the people were drawn to His message and charisma, the leaders were plotting His demise in the background, all while putting on a stoic public face, most certainly an insincere effort to be kind and true to others. Although I always endeavor to be sincere in my efforts towards holiness and kindness, I am far from perfect. I know that as I go about my work days, I am often trying to focus on too many things all at once, therefore creating an interior sense of being overwhelmed. When this happens, I tend to quickly grow impatient with those around me, rushing them along and not giving them the time, consideration and attention that they deserve. I am being quite insincere in my efforts at kindness towards my neighbor because I am not fully giving of the emotional resources I have to offer. I am keeping many of them back within myself, applying them to things that do not need them right at that moment. When that happens, I try and remember to think of this Gospel story. At any given moment, we should focus on sincerely giving all that we have to offer. Our neighbor deserves all of the best that we can give them.
Ponder:
How can I be more sincere in my daily efforts towards prayer, holiness and kindness to my neighbor?
Pray:
Lord, I seek always to do Your will. Help me to discern where I can improve in my sincerity towards You and neighbor, and how I can grow in my life of prayer.
---
Copyright 2019 Tiffany Walsh Receive CatholicMom.com newsletters in your inbox, including the Daily Gospel Reflection each morning!

*

indicates required
About the Author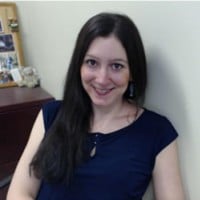 Tiffany Walsh is a wife and mother, a native western New Yorker, and a college librarian. She is a cradle Catholic who rekindled her childhood faith as a graduate student via her love of books, and is the author of Exploring the Catholic Classics, part of the Stay Connected Journals for Catholic Women series. She enjoys writing about faith, crafting, dance, fitness and wellness. Visit her blog at Life of a Catholic Librarian.