Receive Daily Gospel Reflections in your inbox
Today's Gospel: Mark 2:1-12 I'll never forget the day I saw my husband and his three brothers carry the casket of their father, a paralytic due to polio, down the aisle of the church for his funeral. Believing in faith that he was finally healed, that the Lord might say to him upon his entrance to heaven, "Rise, pick up your mat, and [come] home" and he would walk into eternity. This Gospel passage was read at his funeral and always makes me think of him. My father-in-law did not have the physical healing of his paralysis in this earthly life, but he did find the spiritual healing Jesus offers in the Gospel. I think he would agree with me that much of this was due to the prayer and persistence of his wife. She carried him to Jesus throughout their lives by her devout prayer life and her example of unconditional love and sacrifice. In a similar way, the healing in today's Gospel was due to the faith of the paralytic's friends. Those four men who carried the weight of their friend, broke through the roof, and brought him before the Lord...Jesus said it was their persistence and faith that brought forth the miracle. We all have people in our lives who need healing, physical or spiritual. This Gospel gives us hope that our prayers and faith for others make a difference. Don't give up. You are carrying them to Jesus. He knows the load is heavy and that walls (or roofs!) are hard to break through, but we can trust He is waiting with healing hands and loving arms for our loved ones.
Ponder:
Who might God be calling you to carry to Him today in prayer?
Pray:
Lord Jesus, help us pray with faith, trust, and perseverance for our family and friends.
---
Copyright 2019 Laura Range Receive CatholicMom.com newsletters in your inbox, including the Daily Gospel Reflection each morning!

*

indicates required
About the Author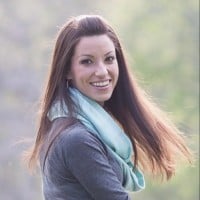 Laura Range is an RN-turned-SAHM living in rural Ohio. A wife and mother of 3 (plus one in heaven), she is passionate about marriage and family life, redeeming the culture, and cultivating community. She enjoys cooking (and eating) tasty food, crafting and DIY, good books, little moments, and keeping it real. She runs a local miscarriage ministry and blogs at Life is Beautiful.