Receive Daily Gospel Reflections in your inbox
Today's Gospel: Mark 3:7-12 - St. Francis de Sales Saint Mark packs striking images in his Gospel. Picture a great multitude, a crowd so immense that Jesus must escape in a boat. Sick people clamor to touch Jesus, the miracle worker. Yet does anyone see His true identity? Oh yes, demons fall at His feet proclaiming Jesus to be the Son of God. Mark writes five lines and it is all so strange. When C.S. Lewis first read the Gospels he thought it was all queer enough to be true. Who could make it up? Life is strange too. Have you noticed? I saw my 31 year-old son-in-law suffer a stroke on his first day as an attorney, three months before his wife gave birth to their sixth child. Of course, they were also moving to a new house that same day. Oh yes and then their car breaks down during the move. Here's another one. My son and his wife, both young and healthy, conceived a child with severe birth defects. An ultrasound revealed the possibility of Down Syndrome. Indeed, a long, excruciating journey lay ahead. Their infant son, Colin, had esophageal atresia requiring multiple surgeries, extended hospital stays; one harrowing night after emergency surgery for a hernia I still remember my son calling to say, "We don't know if he will make it through the night. How do I tell Liam that his brother died?" Oh, I did not tell you that Colin also has Down Syndrome. Ready for the punch line? My son-in-law recovered from successful brain surgery, gave up law, and now works happily as a teacher in a Catholic high school. Colin got a clean bill of health on his last check-up. He enjoys being home with his family and playing with their lab puppy, even though the puppy does chew on his Legos.
Ponder:
How do I react in a crisis? Despite strange twists of fate, do I persevere in prayer, trusting that God has a plan?
Pray:
O Lord, during my darkest hour help me to trust in You.
---
Copyright 2019 Kathryn Swegart Receive CatholicMom.com newsletters in your inbox, including the Daily Gospel Reflection each morning!

*

indicates required
About the Author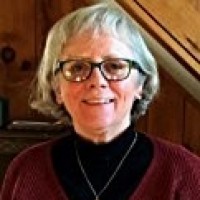 Kathryn Griffin Swegart and her husband raised three children on a small farm in rural Maine. Kathryn, a professed member of the Secular Franciscan Order, is the author of the bestseller Heavenly Hosts: Eucharistic Miracles for Kids Visit her website at KathrynSwegart.com.