Receive Daily Gospel Reflections in your inbox
Today's Gospel: Mark 16:15-18 - Feast of the Conversion of Saint Paul Today we remember the Conversion of Paul. This was a dramatic story of God taking a man who was well known for tracking down, persecuting and imprisoning new followers of the Risen Christ in the early church. After striking him down and blinding him for three days, God literally opened Paul's eyes to the love of Christ. Paul willingly became an instrument in God's hands to tell his story to anyone who would listen. God used the talents of this man to grow the church, which is also mentioned in the Gospel today - we are all commissioned to spread the Good News of Jesus. Saul's talents of leadership, persuasive speech and powerful writing translated to the new Paul being a very influential evangelizer. God asks that we too use our talents to enthusiastically share our stories of what He has done for us. We all have instances of God giving us strength just at the right moment, providing for us in times of need, and possibly even a miraculous answer to our prayers. As moms we all have stories of "close calls" or near accidents with rambunctious children. These need to be told and retold to others, especially to those in need of faith. Our Catholic church offers many opportunities to share our stories both within our walls and outside. As a volunteer with RCIA, Confirmation team, bereavement ministry, small faith groups or others we can tell of our faith and let it help others within our church. In our communities there are ways to spread the knowledge of Jesus in homeless shelters, hospitals, prisons, pregnancy centers, schools and at our jobs. Following the example of Paul, God wants us to use the talents He gave us to share His love. Whether it be speaking, writing, praying, listening, cooking, decorating, gardening, leading or following, think of how God can use your skills to grow His church.
Ponder:
In this New Year, how can you share your conversion or faith story in a new way using your talents?
Pray:
Dear Jesus, You have done so much for me! Help me to be bold like Paul to share my story with others and be Your love.
---
Copyright 2019 Colleen Mallette Receive CatholicMom.com newsletters in your inbox, including the Daily Gospel Reflection each morning!

*

indicates required
About the Author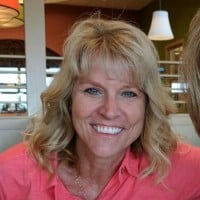 Colleen lives in Ohio and is the proud mother of three young adults. She loves being a full-time stay-at-home mom and a part-time bookkeeper for her husband. She likes to read, write, scrapbook, and volunteer, and is excited to use her talents to share God's love and the hope of His promises through CatholicMom.com. Colleen is co-author of "In God's Hands, Miracles in the Lives of Moms" and blogs at Colleen's Contemplations.