Receive Daily Gospel Reflections in your inbox
Today's Gospel: Mark 5:1-20 In today's Gospel, Jesus heals a man who had been possessed by a legion of demons. This man had been tormented and ostracized. He'd been separated from not only his family, but the entire town. He was spiritually and physically abused by "Legion", the name the demons gave Jesus when He demanded it. When this man is finally freed from the possession, most of the town is absolutely terrified of Jesus – they do not understand what's happening and beg Jesus to leave them alone. The man who was healed, though, has no other desire than to follow Jesus for the rest of his life. But that isn't his vocation. Jesus tells him to go home to his family, and to "announce to them all that the Lord in his pity has done." Jesus knows that the rest of the town – and even the man's family – are afraid, but He also knows that this man will live the rest of his life knowing how very much God loves him. For the rest of his life, that man will tell everyone of God's mercy and goodness, and he will follow Jesus even while staying with his family and his town. It can be the same for us: we should feel a great love for Jesus and what He has done for us, but we might be called first and foremost to a vocation among the laity, where we live for Christ and tell of His love and mercy.
Ponder:
In today's world, Jesus is misunderstood and even feared. What can we do within our own little corner of the world to proclaim God's love and mercy?
Pray:
Lord, You have done so much good in my life. Help me to proclaim Your goodness and mercy wherever I go in my life.
---
Copyright 2019 Christine Johnson Receive CatholicMom.com newsletters in your inbox, including the Daily Gospel Reflection each morning!

*

indicates required
About the Author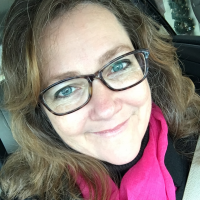 Christine Johnson has been married to Nathan since 1993 and is the mother of two homeschool graduates. She and Nathan live in the Blue Ridge Mountains of Southwest Virginia, where she tries to fit in as a transplanted Yank. She blogs at Domestic Vocation about her life as a wife, mother, and Lay Dominican.