Receive Daily Gospel Reflections in your inbox
Today's Gospel: Mark 8:22-26 Vanity has unfortunately had a hold of me much of my life. So it was painful for me to accept the fact that I could no longer rely on my naked eyes to read. I had to don glasses to make out standard print, and I am not one of those people blessed with a face that looks radiant when adorned with spectacles. Without the glasses, the print would look like gibberish to me. So I can empathize with the blind man for whom people look like trees. In that moment, when I cannot see clearly, I would give anything to be able to have clear vision. I can imagine the man's delight when he could finally "see everything distinctly." But I have found in life that, even though eyesight is an incredible gift, even more important is to possess "spiritual sight." I define this as the ability to see life the way God sees it. That, in fact, has become one of my prayers after receiving Holy Communion — that I can see with Christ's eyes. This means seeing the disheveled, rumpled woman on the street as the daughter of an Almighty King. It means seeing the noisy neighbor as a beloved brother. It means seeing a hurting family member not as a burden, but as an amazing blessing. And it means seeing everyone as a beloved, irreplaceable human being, as a true gift — whether it be the child in the womb, the frail elderly man, or the individual with disabilities. Truly, Christ gives us an eye-opening view of the people who cross our path, and the crosses which dot our landscape. When I try to see the circumstances of my life the way that Christ sees them, I strive to become "another Christ" — His ambassador in the world.
Ponder:
What would it take for you to begin seeing life through Christ's eyes?
Pray:
Dear Jesus, please give me eyes of compassion, to see my brothers and sisters as reflections of You, deserving of great love.
---
Copyright 2019 Maria Gallagher Receive CatholicMom.com newsletters in your inbox, including the Daily Gospel Reflection each morning!

*

indicates required
About the Author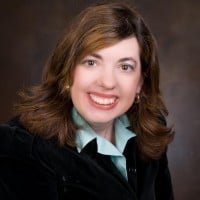 Maria V. Gallagher spends her days advocating for women, children, and families. She is the mother of a beautiful ballerina and a member of the worldwide Cursillo movement. In her spare time, Maria likes to blog, walk, sing, dance, and fill the room with laughter. Read her work at MariaVGallagher.com.