Receive Daily Gospel Reflections in your inbox
Today's Gospel: Matthew 6:7-15 In this passage, Jesus, who knows human nature most intimately, is teaching His disciples how to pray, and there is a lot to be said. We ought not just mumble a lot of empty phrases, and He had just said that we ought not to pray in a grandiose way in an effort to incur the admiration of men. He gives us a model for how to pray: the Our Father. Many have written on the parts of this perfect prayer: adoration, submitting to His will, petitions for our physical needs, contrition for our sins, and a plea to defend us in the fight against evil. But what struck me this time when reading this familiar passage is how He repeats himself on one point. This reminds me of myself, when, leaving my children with the babysitter, I will recite a litany to my children of everything I want them to do (or not do), but the thing I really want to stick with them, I will repeat again before finally closing the door. This little nugget will change depending on the child and his struggles, temperament, and tendencies. Here in the Gospel of Matthew, Jesus circles back to the one item He really wants us to remember, the point He wants to drive home: forgiveness. If we will be forgiven, we must forgive. How He knows human nature and our struggle to forgive! He so desperately wants His disciples - us - to understand this and remember it that He says it in three different ways! This is the nugget he chooses to end with. Like the mother who repeats her most important instruction before she heads out the door, before He departs from the subject of prayer, He reminds us that we must forgive.
Ponder:
Is there anyone in your life you have refused to forgive? Do you need to ask someone else to forgive you?
Pray:
Our Father - my Father - I give You my heart. By Your grace, dear Lord, please teach me to forgive all injuries, whether they are intentional or accidental.
---
Copyright 2019 Amanda Woodiel Receive CatholicMom.com newsletters in your inbox, including the Daily Gospel Reflection each morning!

*

indicates required
About the Author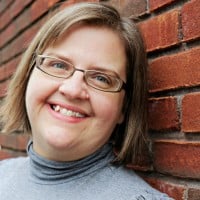 Amanda Woodiel is a Catholic convert, a mother to five children ages 11 to 3, a slipshod housekeeper, an enamored wife, and a "good enough" homeschooler who believes that the circumstances of her life -- both good and bad -- are pregnant with grace. She leads a moms' group at her parish that focuses on simple and meaningful ways to live the liturgical year at home. Amanda blogs at In a Place of Grace.