Receive Daily Gospel Reflections in your inbox
Today's Gospel: John 16:23B-28 - Memorial of St. Justin, Martyr "Whatever you ask the Father in my name he will give you." That is a pretty powerful statement. It's one that I haven't always given enough attention to especially since praying in the name of Jesus is something I've done thousands of times. Praying "in Jesus' Name" and "in the Name of the Father, Son, and Holy Spirit" are second nature to me as a lifelong Catholic. Of course we know that it's not a magic word or a secret password that grants us whatever we want. So, what does it mean to ask for something in Jesus' name? Some time ago I read a reflection on this passage where the author suggested that asking something in Jesus' name was the same as including Jesus in our request. It means that we've consulted Him already. We've thought about what we're asking and considered if it might be part of God's will. And now we're asking in Jesus' name because we want His will to be done - whatever His will is. This has been immensely helpful in my own prayer life. Sometimes I'll begin to ask God for something and then pause. What if God wants to give me something so much better than what I'm asking for? So my prayer changes. "God, I want Your will. I ask this of You, but Your will be done, not mine." Some of the most beautiful (even if painful) things have come as a result of that prayer. Some things I'd asked for and some things I hadn't, but all were prayed in the Name of Jesus. In that way, prayer never disappoints. The Father never fails to provide exactly what we need in each moment, because as we read today, "the Father Himself loves you."
Ponder:
What have you asked for in Jesus' Name?
Pray:
Father, thank You for sending us Your Son, Jesus, to show us the way to You. Let Your perfect will be done in my life today.
---
Copyright 2019 Megan Swaim Receive CatholicMom.com newsletters in your inbox, including the Daily Gospel Reflection each morning!

*

indicates required
About the Author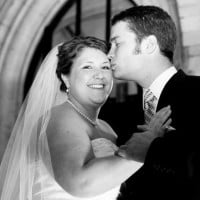 Megan Swaim is an Indiana girl on an east coast adventure. A former high school youth minister, she now gets to minister full-time to her three young daughters and her husband Josh. Megan spends her days homeschooling at the kitchen table, drinking iced coffee, and exploring coastal Virginia.