Receive Daily Gospel Reflections in your inbox
Today's Gospel: Luke 1:26-38 - Annunciation of the Lord Today is the Solemnity of the Annunciation of the Lord, the focus of one of my favorite mysteries of the Rosary. There is so much to love about Mary's fiat, the beauty of using free will to cooperate with God's plans. Yet, my own journey to learn to better discern God's will for my life sometimes included not being able to relate to Mary because she knew directly and explicitly, while I have to fumble around in prayer, trying to infer God's will. I have an ongoing inner dialogue of letting God know what I am doing and why, hoping it is His will for me and asking for re-directs if it is not. While I could not initially connect this to the Annunciation, I could see how needing to do this connects to one of my favorite verses in Scripture related to Mary that comes later in the Gospel of Luke, "And Mary kept all these things, reflecting on them in her heart" (Luke 2:19). Yet, this characteristic of Mary was already present in the Annunciation - "But she was greatly troubled at what was said and pondered what sort of greeting this might be" (Luke 1:29). Despite how greatly troubled she is, she does not immediately say anything. Instead, the angel Gabriel speaks again, letting her know God's plans, to which she asks a single question, receives a response and gives her yes. With time I was able to see that while some key details were explicitly revealed to Mary, there was so much to ponder about those details, as well as everything else that was yet to be revealed. Mary's inner life was a key attribute. The more I reflect on this, the better I appreciate Mary's example to support me in giving my own fiat.
Ponder:
How might spending time with today's Gospel, with lectio divina and/or meditating on the first joyful mystery of the Rosary, aid you better responding to God's will for your life?
Pray:
Loving Lord, thank you for providing Mary as a mentor, and the richness and depth of Scripture to guide our hearts at different phases of our development. Thy will be done in everything.
---
Copyright 2019 Amanda Villagómez Receive CatholicMom.com newsletters in your inbox, including the Daily Gospel Reflection each morning!

*

indicates required
About the Author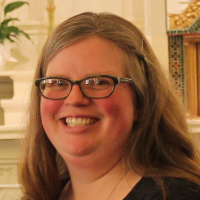 Amanda Villagómez is a wife, mom of 6, and teacher educator. On her personal site, she focuses on the beauty of becoming who God created us to be by celebrating the process of change and growth.