Receive Daily Gospel Reflections in your inbox
Today's Gospel: John 5:1-16 "One man was there, who had been ill for thirty-eight years." Thirty-eight years. That's a long time. Maybe longer than your entire lifetime thus far. It's more than three-quarters of mine. And he was healed. He didn't even have to ask. Jesus approached him, asking if he wanted to be healed. Miracles raise so many questions. In this case, why did the man have to wait so long? Why was he healed at all, when others weren't? After all, there lay "a large number of ill, lame, blind, and crippled." When I focus on these questions, ones for which I doubt any of us will obtain a satisfactory answer this side of heaven, I overlook the other, more decipherable messages. For one, sin ails the soul more than any physical infirmity can ail the body. Jesus tells the man he healed, "Sin no more, that nothing worse befall you." If I miss this message, I risk becoming like the Jews in this story, missing the point entirely. Not seeming to care one whit about the man or the fact that he was healed, they focus on the bit of information that will help them to further their agenda: that Jesus healed on the Sabbath.
Ponder:
Do I spend too much time dwelling on why God wills this or that and too little on working out my salvation?
Pray:
Lord, let me see with clarity what is important and what is merely a distraction, or information I cling to only to bolster my own fixed opinions.
---
Copyright 2019 Carolyn Astfalk Receive CatholicMom.com newsletters in your inbox, including the Daily Gospel Reflection each morning!

*

indicates required
About the Author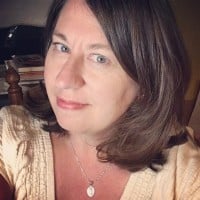 Carolyn Astfalk is a wife, mother of four young children, and a writer. Her contemporary Catholic romances are available at Amazon.com. She is a member of the Catholic Writers Guild, a Catholic Teen Books author, and blogs at My Scribbler's Heart. Visit CarolynAstfalk.com.