Receive Daily Gospel Reflections in your inbox
Today's Gospel: Luke 22:14—23:56 - Palm Sunday of the Lord's Passion Today's gospel begins the most wondrous week in mankind's history. Imagine how the Apostles must have felt entering Jerusalem. Here they were, following behind Jesus, being lauded by an entire multitude of people. They believed, by the crowd's reception, the coming week was going to be the best ever! And so, as they gathered to celebrate the Passover dinner, they were ready to party. All had observed this holy day before, but tonight was so much more special. I can almost hear the laughter and happiness as they gathered; feel the love emanating among them as they took their seats. And then Our Lord announces how he 'greatly desired to eat this Passover with you...before I suffer.' If ever there was a conversation stopper, this was it! I am positive the laughter and conversation slowly came to a halt as the feeling of joy was replaced with one of foreboding. They loved Him and knew He always spoke the truth. His suffering was going to be real and their sadness must have been palpable. And amid this feeling of the unknown, sensing their pain, Christ offered them hope. He gave them the gift of His Body and His Blood. This First Eucharist was His promise to always be there for them, throughout not only the next few days, but their entire lives. Like them, we will experience different emotions and feelings on any given day. We need to bring them to His Table and allow ourselves to be filled with His Body and Blood. When we are able to do this, we are accepting Him into our lives. And, just as He did at the Last Supper, He will replace all our fears with hope.
Ponder:
Do we truly understand the significance, the wonder, of the Eucharist and all it offers? Do we walk away from His table filled with joy and hope?
Pray:
Lord, I do not say it often enough but thank You for the gift of the Eucharist. Make me worthy to sit at Your table always. Amen
---
Copyright 2019 Carol Sbordan Bannon Receive CatholicMom.com newsletters in your inbox, including the Daily Gospel Reflection each morning!

*

indicates required
About the Author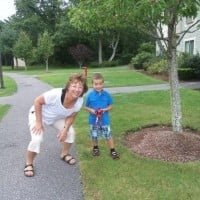 Carol Sbordon Bannon is a full-time writer with a degree in elementary education from Worcester State University. She is a substitute teacher and has been a catechist for over thirty years. In addition to A Handshake From Heaven, she is also the coauthor of Our Family's Christmas Elf. She is happily married and currently resides in Concord Township, Ohio. Visit Carol at CSBannon.Wordpress.com.