Receive Daily Gospel Reflections in your inbox
Today's Gospel: John 13:21-33, 36-38 "Lord, why can I not follow You now?" Can't you just imagine Peter saying this to Jesus during the Last Supper? After three years of following Jesus everywhere and living every day with Him, Peter probably couldn't imagine life without Jesus. They traveled together, ate every meal together, fished together and shared many joys and tribulations. They were bonded so close due to all of this shared time, just like a family gets closer after sharing a week of vacation in one hotel room. You hate to see it come to an end. Jesus was their leader, too. He was the one who decided where to go and when to change direction in their journey. He chose who to preach to, who to heal and when to go to the synagogue. Plus, Jesus was their teacher and adviser. Everything the disciples said and did was being influenced by Jesus as they watched and learned from Him how to live righteously. This Holy Week was a special and different time from any other week the disciples shared with Jesus over the course of His three-year ministry together. So when Jesus said they couldn't go with Him anymore, that was something they certainly didn't like. Losing someone we love is never easy. We want to be together forever. We especially hate to be separated from someone who leads us and shares every day with us. We have to remember what Jesus' answer to Peter was, "you shall follow Me afterward." We have the promise of eternal life together with God and all of our loved ones. This life is temporary, but thanks to the ultimate sacrifice of God's Son on the cross and His glorious Resurrection on Easter we are assured of the rewards of heaven. Amen!
Ponder:
How can you live today as if it were your last day with those you love? How can you share Jesus' love and eternal promise with those you are with?
Pray:
Dear Jesus, thank You for sacrificing Your life on the cross to save us from our sins. Help me to love and live like You every day in gratitude for Your love.
---
Copyright 2019 Colleen Mallette Receive CatholicMom.com newsletters in your inbox, including the Daily Gospel Reflection each morning!

*

indicates required
About the Author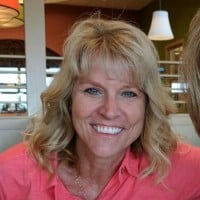 Colleen lives in Ohio and is the proud mother of three young adults. She loves being a full-time stay-at-home mom and a part-time bookkeeper for her husband. She likes to read, write, scrapbook, and volunteer, and is excited to use her talents to share God's love and the hope of His promises through CatholicMom.com. Colleen is co-author of "In God's Hands, Miracles in the Lives of Moms" and blogs at Colleen's Contemplations.