Receive Daily Gospel Reflections in your inbox
Today's Gospel: John 3:7b-15 The other day my five-year-old asked how the wind blows. Uh… I don't do science. I can take a very rudimentary stab at explaining things that occur in nature, like plant life and precipitation, but this time I was at a loss. Maybe this is why Jesus used the wind to explain the movement of the Spirit to Nicodemus; It's beyond our understanding, but still very real. Fun fact: the Greek text actually uses the same word for "wind" & "spirit." I wonder if the first person to fly a kite was actually trying to do that, or were they making some other toy on a windy day and it slipped out of their hand and into the sky? Who was the first photographer to capture the beautiful moment when a bride let go of her veil on her windy wedding day and let it blow behind her? I can't tell the wind where to go. I can't describe how it is generated. I can't see it. But I know I've seen the wonder and beauty it creates. I hope you are willing to let go and feel the movement of the Spirit in your life. Something beautiful will happen. I promise.
Ponder:
How do you explain the movement of the Holy Spirit?
Pray:
Holy Spirit, fall upon us today. Help us to feel Your presence and respond to Your promptings.
---
Copyright 2019 Abby Watts Receive CatholicMom.com newsletters in your inbox, including the Daily Gospel Reflection each morning!

*

indicates required
About the Author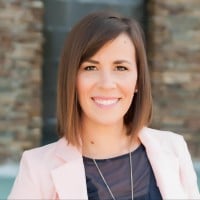 Abby Brundage Watts is a mother of two little boys. Since January of 2008 she has hosted The Big, Big House Morning Show on Spirit FM 90.5, the radio ministry of the Catholic Diocese of St. Petersburg in Florida. The show mixes inspiration, humor and family fun (and great music of course)! You can hear Abby every weekday 6-10am, EST and online at www.myspiritfm.com. She also is the co-creator of the podcast, Perhaps This Is the Moment. You can find it on all the podcast platforms.