Receive Daily Gospel Reflections in your inbox
Today's Gospel: Matthew 6:19-23 - Memorial of Saint Aloysius Gonzaga "The lamp of the body is the eye. If your eye is sound, your whole body will be filled with light." Our family's optometrist has this scripture passage stenciled on the wall of his waiting room. I can't help but stare at it whenever I am in there, pondering the many ways it could be applied to my life. Today we also remember St. Aloysius Gonzaga, patron of Catholic youth and teenagers. As a teenager himself, it is said that St. Aloysius inflicted a rigorous routine of fasting, penance, and prayer upon himself. He also sought purity in everything, not allowing himself to look upon the faces of women. As the mother of a teenage son who is rapidly approaching the dating years, I pray every day for his purity. While it is certainly not sinful to look innocently upon the faces of women, I pray he will always do so with a sound, or pure, eye. Like St. Aloysius, I hope he will seek purity in all that he does, respecting the design and dignity of his female friends -- thus keeping his own body "filled with light." As our children grow up and gain independence, they teach us that we are asked to let go of even the most beloved parts of our lives. We are asked to focus on where they are going rather than where they are right now. We are asked to help them stay filled with light so they will reach their eternal home -- that heavenly bliss where Jesus has always asked us to store our treasures -- those we value most on this earth.
Ponder:
What are some steps you can take to help your children grow in purity today? Don't be afraid to talk to them about their sexuality and the dignity of their bodies--they want to hear the truth from you.
Pray:
Dear Jesus, please help me to remember that my children are not my own, and that my primary responsibility in this life is to help them get to heaven. Guide me as I seek to help them grow in purity and love for You.
---
Copyright 2019 Charisse Tierney Receive CatholicMom.com newsletters in your inbox, including the Daily Gospel Reflection each morning!

*

indicates required
About the Author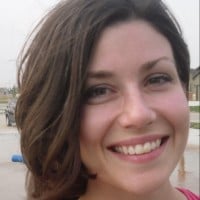 Charisse Tierney lives in Wichita, Kansas, with her husband Rob and seven children. Charisse is a stay-at-home mom, musician, NFP teacher, and a Catechesis of the Good Shepherd catechist in training. She is also a contributing author to The Catholic Mom's Prayer Companion and Family Foundations magazine. Charisse blogs at Paving the Path to Purity and can be found on Facebook.