Receive Daily Gospel Reflections in your inbox
Today's Gospel: Luke 8:1-3 - Memorial of Saints Andrew Kim Tae-gŏn and Companions Today is my daughter's 19th birthday. As a new college student, she has a limitless future ahead and we are so excited to see where she goes in life. We are happy she chose to attend a Catholic college so that her spiritual growth will certainly be a part of her college journey. The Gospel today mentions many women who accompanied Jesus and His twelve disciples as they traveled about from town to town. The fact that women are even mentioned is phenomenal because that gender wasn't given much credit or authority at all back then. What is even more astounding is the last sentence of this Gospel reading: "These women were helping to support them out of their own means." That means these women somehow had the funds to provide sustenance not just for themselves but for others too. Plus they were generous enough to share with the traveling group! Throughout history women have always been the emotional backbone of communities. Nowadays they may also be the financial, spiritual, intellectual and sometimes even physical leaders as well. We have this Bible verse and others that tells us God supports our role in aiding His cause in these ways. We should use this proof to guide us in encouraging our daughters, nieces and all young women to dream big and be bold and generous in using their talents to spread their faith. They have a responsibility to choose a vocation/career that will make the world a better place. They also need to be taught to share their income as these women who traveled with Jesus did. Whether it is by giving tithes to the church, donations to charity, or purchasing items needed by the less fortunate. We will be making a donation to a charity today in honor of our daughter's birthday, but we pray that when she has her own income she will feel the desire to give to others too.
Ponder:
What young woman can you encourage to incorporate her faith into her career more fully?
Pray:
Lord God, thank You for the Gospels that teach us how to live as financial and emotional supporters in our communities. Help us to be strong leaders in making our little world around us better by sharing Your love. Amen
---
Copyright 2019 Colleen Mallette Receive CatholicMom.com newsletters in your inbox, including the Daily Gospel Reflection each morning!

*

indicates required
About the Author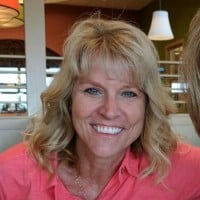 Colleen lives in Ohio and is the proud mother of three young adults. She loves being a full-time stay-at-home mom and a part-time bookkeeper for her husband. She likes to read, write, scrapbook, and volunteer, and is excited to use her talents to share God's love and the hope of His promises through CatholicMom.com. Colleen is co-author of "In God's Hands, Miracles in the Lives of Moms" and blogs at Colleen's Contemplations.