Receive Daily Gospel Reflections in your inbox
Today's Gospel: Luke 9:22-25 All throughout the Gospel, Jesus calls us to radically follow Him. He invites us into a personal relationship with Him, because He loves us. And out of His love, He wants what is best for us: life forever with Him in Heaven. But because of His immense love for us, Jesus does not force us to follow Him. Rather, Jesus wants us to make the choice. He has chosen us. Now, He wants us to choose Him. While He leaves the choice up to us, He allows us to glimpse into the outcome of our choice to follow Him, or not, in today's Gospel. "If anyone wishes to come after me, he must deny himself and take up his cross daily and follow me." (Luke 9:23) This is not an easy Scripture passage to read, let alone live out. But Jesus never promises that following Him will be easy. And there is no easy way to Heaven either. But Jesus does promise a way, and the way is the cross. "For whoever wishes to save his life will lose it, but whoever loses his life for my sake will save it." (Luke 9:24) When we love the Lord, walk with Him, and keep His commands, we live fully, grow fruitfully, and are blessed eternally. This requires sacrifice, repentance, and surrender, which is not easy in a world that promotes the opposite. The choice is ours: "life and prosperity, death and doom." (Deuteronomy 30:15) "Blessed are we who hope in the Lord, who do not walk in the counsel of the wicked … rather, the law of the Lord is our joy" (Psalm 1).
Ponder:
What area of your life do you want to surrender to Jesus this Lent, so you can follow Him more closely?
Pray:
Jesus, as Lent begins, help me to enter it with complete abandon. Keep me close and continue to teach me Your ways, that I may live with You in Heaven forever. Amen.
---
Copyright 2020 Sarah Damm Receive CatholicMom.com newsletters in your inbox, including the Daily Gospel Reflection each morning!

*

indicates required
About the Author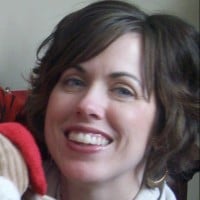 Sarah Damm is a Catholic wife and mother of six children, living in Minnesota. She spends her days running errands, helping with homework, and keeping up with laundry and the family schedule. Sarah loves her faith, coffee, and good books. You can find out more about her at SarahDamm.com.