Receive Daily Gospel Reflections in your inbox
Today's Gospel: John 20:19-31 - Divine Mercy Sunday
Thomas was the sort of man who needed to see the marks of nails in Jesus's hands and put his fingers right into the wound in His side before he could believe that Christ had risen from the dead. When the other disciples told Thomas, "We have seen the Lord.", he could not trust their tale. Second-hand news would not convince him.
Typical reflections on Doubting Thomas often focus on the words of Christ as they apply to us today. Modern believers draw comfort from the fact that Jesus told Thomas, "Have you come to believe because you have seen me? Blessed are those who have not seen and have believed."
On the other hand, Thomas demonstrated an important facet of our faith. Christianity is above all an experiential faith, a living relationship with Christ. A Christian is not a person who merely accumulates intellectual knowledge about God nor simply fulfills tradition and the letter of the law. Pope Emeritus Benedict and Pope Francis have repeatedly emphasized that Christianity is an encounter with the risen Christ. As the Catechism of the Catholic Church reminds us:
To believe, celebrate, and live this mystery demands a personal relationship with the living God through prayer. " Prayer is a surge of the heart, a simple look toward heaven, a cry of recognition and of love, embracing both trial and joy" (St. Therese of Lisieux) (CCC 2258).
Once the disciples encountered the living, resurrected Christ in the flesh, they were transformed from fearful men cowering in a room, to powerful men of God, filled with the Holy Spirit who could actually forgive sins in the name of Christ.
[Tweet "Christianity is above all an experiential faith, a living relationship with Christ. #dailygospel By @mjmjuneau"]
Ponder:
Even though we are blessed when we believe without seeing, do we seek an encounter with the living Christ as our popes have encouraged us to do?
Pray:
Lord, grant us the peace and courage to overcome our fear of the unknown and seek a relationship with Christ through prayer.
---
Copyright 2020 Melanie Jean Juneau
Receive CatholicMom.com newsletters in your inbox, including the Daily Gospel Reflection each morning!
* indicates required
About the Author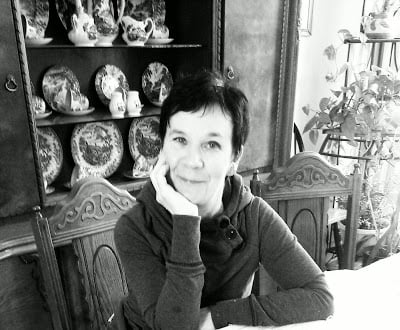 Melanie Jean Juneau is a mother of nine children who blogs at joy of nine9. Her writing is humorous and heart-warming; thoughtful and thought-provoking. Part of her call and her witness is to write the truth about children, family, marriage and the sacredness of life. Melanie is the administrator of ACWB, the Editor in Chief at CatholicLane, CatholicStand, Catholic365 , CAPC & author of Echoes of the Divine.