Receive Daily Gospel Reflections in your inbox
Today's Gospel: John 6:44-51
Often, when I attend an online Mass with my family these days, I am pleasantly shocked and surprised if I hear the words of the Consecration. And, as I look back on my life, I feel a tinge of sadness for those days where, before children, I didn't always pay attention to the words of the Consecration and didn't always understand the meaning of the Consecration.
Today, we are reminded by Christ that He is the bread that came down from heaven. We are reminded that whomever eats this bread – Jesus – will live forever. Our attention is brought to the subtle reminder that our path to the Father is shown paved through a relationship with the Son.
There have been times I have struggled to see Jesus, not just working in my daily life, but in the Sacrifice of the Holy Mass. I can't be bitter, and I can't regret not understanding what I now know and believe. However, what I can do, in light of this Gospel reading, is assess how my beliefs manifest themselves today. Christ gently reminds us that, "No one can come to me unless the Father who sent me draw him." We are challenged in today's Gospel to be open to being drawn into a relationship with God, and with Jesus. We are challenged to spend time in prayer, asking God to open our hearts to Jesus.
Hearkening back to the days of childhood religious education, we simply ponder, what is the purpose of life? To know God. To love God. To serve God. And, Christ gives us a definitive path in today's Gospel. Know, love, and serve God through prayer, through frequent reception of the Eucharist, and through a belief in His infinite mercy and love for each of us.
[Tweet "Know, love, and serve God through prayer, the Eucharist, and belief in Him. #dailygospel By @beautifulcamome"]
Ponder:
What steps can you take to begin to grow deeper in love with Christ in the Eucharist?
Pray:
Dear Lord, grant me the desire to know You better, to love You deeper, and to serve You more graciously.
---
Copyright 2020 AnnAliese Harry
Receive CatholicMom.com newsletters in your inbox, including the Daily Gospel Reflection each morning!
* indicates required
About the Author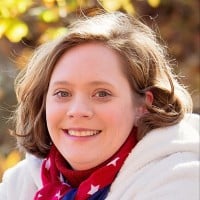 AnnAliese Harry is a proud Army wife to her husband Chris, and a mother to their young children. She has a BA in History, a Masters in Social Work, and has worked with disabled veterans, troubled teens, and in early childhood intervention therapy. AnnAliese volunteers with several military chapel communities and serves as a lector, EMHC, Adoration coordinator, and Catholic Women of the Chapel (CWOC) chapter president and vice president. She blogs about Catholicism, parenting, and military life at A Beautiful, Camouflaged Mess of A Life. Follow her on Twitter, on Instagram, or on Facebook.