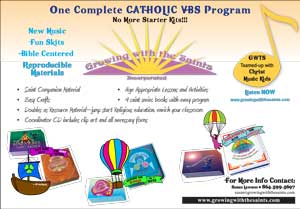 I'm pleased to share the following interview with Susan Lawson of Growing with the Saints, a Catholic Vacation Bible School program that is doing amazing work to support Catholic families and parishes.
Please introduce yourself and give our readers some background information on Growing with the Saints.
Growing with the Saints, Inc. was founded in 2001, in response to religious educators and parents who were searching for a 'solid Catholic' Vacation Bible School Program to implement in their parish. Originally a Protestant concept, Vacation Bible School Programs are now being embraced by the Catholic community. With the multitude of non-Catholic VBS Programs available, and few publishers offering complete Catholic materials, GWTS saw a need for a FUN and comprehensive Catholic based Bible Camp. Like our supporters, GWTS believes in teaching the Bible from a Catholic perspective. Catholic children need every opportunity available to show them how our Catholic faith is founded in the Bible and Sacred Tradition. 2 Thes. 2:15 states,"Stand firm and hold fast to the traditions that you were taught, either by an oral statement or by a letter of ours". 1 Cor. 11:2 says, "I praise you because you remember me in everything and hold fast to the traditions, Just as I handed them on to you."
We incorporate our Catholic Traditions in EVERY element of our VBS Programs while keeping it fun, creative, and energized! We offer an interactive Catholic "faith based" Bible Camp that captures children's hearts, minds, and spirits. They will be inspired to model the virtues of our holy saints.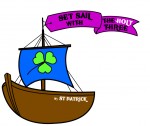 Please give an overview of the previous years' VBS programs.
The three VBS Programs we currently offer received Imprimaturs from the Diocese of Lafayette, Bishop William L. Higi and Fort Wayne-South Bend Diocese, Bishop John Michael D'Arcy for sound doctrinal teaching. They are THEME BASED, BIBLE CENTERED Programs where children discover the fullness of the sacraments, Mary, Queen of Heaven, and our beloved saints. Our Saint companion books, full of adventure and wonder supplement each VBS program theme.
Set Sail with the Holy 3 featuring St. Patrick: Children will set sail with St. Patrick, the first Bishop Missionary, and travel with him on his quest to spread Christianity to the dangerous and ungodly country of Ireland. They will discover the POWER of the Holy Spirit and welcome God the Father, Son, and Holy Spirit into their hearts.
Around the World in Five Days with the Virtues featuring the Assorted Saints: Boys and girls will embark on a journey to discover the mysteries of the timeless virtues of faith, hope, and love with Saint Juan Diego, Saint Brigid of Ireland, Saint Martin De Porres, Saint Nicholas of Myra and the Blessed Kateri Tekakwitha. The saints know the secrets! Kids discover the meaning of the virtues and how practicing them can impact their lives and those around them.
Parachute with the Angels featuring St. Catherine Laboure': Check in with Saint Catherine, pick-up your flight plan and meet your Co-Pilot; Your very own Guardian Angel! Children will encounter exciting characters from the Bible whose lives were transformed by angels. Who knows? You may even meet Mary, the Queen of Angels on the way!
What do you have planned for 2009 and how will this year's VBS be bigger and better than ever?
NEW for VBS 2009, GWTS "teamed-up" with Christ Music Kids to provide top quality Music CDs for kid's worship. The Music CDs offer a combination of UPBEAT Praise and Worship songs AND original, simple songs to keep the younger children involved. Hand and feet movements keep the little ones active and on target. Original, easy to make, and affordable crafts are integrated into song numbers for the Closing Ceremony Music Program. Visit GWTS website to SAMPLE MUSIC AND READ REVIEWS!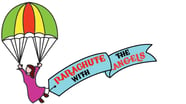 What are some of the features that make Growing with the Saints' VBS programs unique and special?
Foremost, GWTS VBS is not a derivative of a Protestant based VBS Program offering Catholic companion Director Guides and materials. We are Catholic writers developing completely Catholic VBS Programs for our Parishes. Sacred Scripture along with Tradition is fused into EVERY element of our VBS Programs.
GWTS is unique in that our reproducible materials are packaged in ONE COMPLETE CATHOLIC VBS PROGRAM. We DO NOT offer Starter Kits which can become very expensive with all the "hidden" costs. We offer ALL you need to implement a FUN, theatrical, engaging CATHOLIC VBS. The programs are packaged in ONE beautifully designed Double Binder: Age – Appropriate Bible Lessons and Activites, FUN Skits, Affordable Crafts, Music, 4 colorful saint companion storybooks, Service Projects, Field Day, Snacks, and a Coordinator CD includes Clip Art and all necessary VBS Forms.
GWTS includes 4 copies of our beautifully illustrated Saint Series storybooks guaranteed to capture the children's attention. Our saint materials are integrated throughout the entire VBS Program.
GWTS offers one of the most affordable, coordinator friendly VBS Programs around! Because our programs present the fullness of the faith in a theme based format, religious educators and teachers are taking them back into the classroom to supplement religion lessons. Catechists love the "Pull-and-Go" removable pocket folders because they can easily access INSPIRATIONAL faith lessons, ACTION-PACKED skits, UPBEAT music, UNIQUE crafts, and a variety of other ENGAGING activities. The material contained in our programs will never become obsolete and can be used year after year. Our saint storybooks (four copies included) will captivate the interest of each child through adventure and the illumination of God's miracles.
What types of feedback have you received from parishes who have used your programs for the past few years?
Our customers are thrilled to have discovered solid, FUN, and comprehensive Catholic VBS Programs. Many parishes order our programs because they are are tired of 'generic' VBS Programs that have become more commercialized each year. Parents are happy their children are not coming home asking if "they have been saved!" Once parishes participate in our Catholic VBS, they continue to call and send emails commending GWTS on how much their children learned in a one week program! All involved LOVE the companion saint materials and the animated skits – including the teens! Following is a comment from a DRE who took a "leap of faith" and turned from Protestant VBS to our Catholic Parachute with the Angels and St. Catherine Laboure'program.
"We are halfway through the week and it is going so well. The kids are having a great time, the teachers love the lessons, the skits are great, and I am so happy we are using a "catholic" curriculum. I had planned on this being my last year, but I am stunned that I am actually reconsidering after the success we are having! Thanks for all your support and encouragement. I have often wondered why some of our Catholic publishers do not jump in and take VBS seriously. We had a great week, lots of the youth volunteers wanted to receive medals, and we raised almost $900 that we gave to an order of sister called Little Sisters of the Poor. It was amazing b/c their foundress lived in France and the Mother House is about 1 block from the Rue de Bac. The sister who came to receive the money told the children that she had been to the Rue de Bac many times and she pulled out a miraculous medal that her order wears as a part of their habit. It was awesome. I have used Protestant VBS programs and have written my own, but this by far the best curriculum of them all!" Chris Stokman, DRE- Church of St. Joseph, St. Paul, MN
Why is it important that Catholic parishes strongly consider selecting Catholic VBS programs?
As Catholics, we are called to respond to Pope John Paul II's plea for a New Evangelization and the mission of our church, "As the Father has sent me, so I send you" (Jn 20:21, cf.17: 18). Our solid Catholic programs are important to the early faith formation of children and an opportune time to evangelize our faith. GWTS believes that children are the greatest evangelists because they are not afraid to talk about God and the Church with their friends. Now is the time for Renewal. Bishop D'Arcy called our Ministry a "very worthwhile endeavor." Catholic VBS Programs should be marketed with the same intensity and appeal as our non-Catholic brothers and sisters; we can evangelize, re-evangelize and bring about conversions.
Many children do not have the opportunity to attend Catholic schools and receive as little as one hour per week religious education – IF they are regularly attending religious instruction this amounts to only 48 hours per year. For some children, a Catholic VBS may be the only time they are exposed to basic elements of the Catholic faith. GWTS Catholic VBS Programs can be effective Catechetical programs because they go beyond the textbook with "active participation" making learning FUN and APPEALING to children!
What words of encouragement do you have for parishes, families, or teachers who would like to begin a VBS program but have no experience doing so?
Why not start with a totally Catholic VBS Program? As parents look for wholesome summer activities for their children, a Catholic VBS can provide an exciting, fun-filled experience focusing on God and the fullness of our faith. GWTS is dedicated to creating awesome, simplified programs where children of all ages will learn the Bible from a solidly Catholic perspective. Our VBS format which includes a comprehensive Coordinator Section and CD takes the guess work out of planning a VBS. Easy to follow dialogue, lessons, activities, skits, and crafts all packaged in ONE COMPLETE VBS makes it coordinator friendly, especially for FIRST TIME VBS participants who are overwhelmed by the commercialized Starter Kits. Many Directors of Religious Education are excited and relieved because they no longer feel they have to write their own Catholic programs as they had in previous years. Our VBS has a "built- in" flexibility so parishes can adapt the program to meet their parish schedules and needs. Our materials are reproducible allowing for increased enrollment without the added cost of individual grade level booklets.
A VBS "Parish Program" invites children and parents to celebrate family life within the larger "Parish Family". What a wonderful opportunity for family members to re-connect with their faith and re-learn the fundamentals of Catholic teachings. Young people also have the opportunity to learn about Community Service as they participate in the VBS Service Project.
Recruiting volunteers is easier than ever because a Catholic VBS with a dynamic theme generates excitement within the parish! Families will jump on board to help create an environment appealing to the children with decorations and music while nurturing their Catholic faith.
Please share about the involvement of Christ Music Kids with your VBS programs this year - how does music impact upon the children's experience during VBS?
Recognizing the importance of the musical element and its long lasting impact in children's lives, GWTS is thrilled to announce that we "teamed-up" with Christ Music Kids offering UPBEAT group Praise and Worship music. Our NEW MUSIC appeals to all age groups and those participating will be singing the songs long after summer VBS. Christ Music Kids was featured in the July/August 2008 Issue of Faith and Family Magazine.
"If your children like praise and worship music, I can't recommend this CD highly enough. It's the best Catholic kids worship album I've heard, and it includes both familiar and original songs. With inspiring vocals and rousing instrumental by Christ Music Kids, it will energize your entire family. The album would make the perfect accompaniment to a Vacation Bible School program or praise and worship at church. A companion songbook is sold separately." Tim Drake, Faith and Family Magazine July/ August 2008
How can our readers get more information on Growing with the Saints?
Visit Growing with the Saints, Inc website: www.growingwiththesaints.com for available Catholic VBS Programs, Children's' Saint Books, Music CDs, and Colorful Themed T-shirts. For personalized customer service call Susan Lawson at 864-599-5697.
Are there any additional throughts or comments you'd like to share with our readers?
GWTS has been invited to many Catechesis Conferences to present our New Catholic VBS Programs. Mr. Ken Ogorek, Director of Catechesis for the Archdiocese of Indianapolis was interviewed by the National Catholic Register in May of 2008. He said, Growing with the Saints "has helped raise the bar for Vacation Bible School material". He stated, "There's a big difference between a program that is permeated with the Catholic faith and one that has a Catholic overlay".
It has taken a tremendous amount of work and resources to develop comprehensive Catholic VBS Programs from the ground-up. We are asking the Catholic community to support our efforts so we can continue developing FUN quality Catholic VBS Programs. Enthusiasm is contagious. We have great enthusiasm for our faith – will you join us in our Ministry and help us share our beautiful faith with our larger Catholic family.
For additional information, visit Growing with the Saints.
About the Author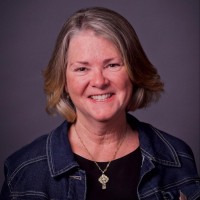 Lisa M. Hendey is the founder of CatholicMom.com, a bestselling author and an international speaker. A frequent radio and television guest, Hendey travels internationally giving workshops on faith, family, and communications. Visit Lisa at LisaHendey.com or on social media @LisaHendey for information on her speaking schedule or to invite her to visit your group, parish, school or organization. Visit Lisa's author page on Amazon.com.