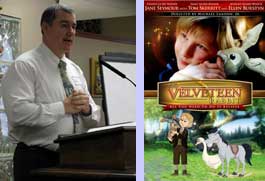 This week on the podcast, we share two interviews. Allan Wright is a Catholic husband and father, as well as a nationally known speaker, teacher and the author of Jesus in the House: Gospel Reflections on Christ's Presence in the Home

and Silent Witnesses in the Gospels: Bible Bystanders and Their Stories

. Michael Landon Jr. speaks with us about his latest family film, The Velveteen Rabbit

. The film stars Jane Seymour, Tom Skerritt, and Ellen Burstyn and is based on the children's classic.
[podcast]http://media.libsyn.com/media/catholicmoments/cm096.mp3[/podcast]
Deacon Tom Fox features a special reflection for the Solemnity of the Annunciation of the Lord and speaks about St. Louis de Monfort and the Blessed Virgin Mary.
Please consider SQPN during this year's Giving Campaign and help us share the faith with new media. Share your feedback at 206-339-9272, comment here on the blog or email lisa@catholicmom.com.
Links for this Episode:
About the Author