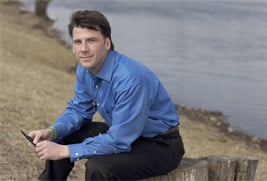 Robert Rogers, an electrical engineer and accomplished songwriter and pianist, resigned from his technical career in 2004 to form Mighty in the Land Ministry. He freely shares his testimony of "no regrets" by invitation around the world and calls Fort Wayne, Indiana, his home.
[podcast]http://media.libsyn.com/media/catholicmoments/cm141.mp3[/podcast]
Deacon Tom invites those without sin.... and those with oft-repeated sins to join him in confession at your parish penance service. Tom will be there - but in the longest line for Confession. Listen and hear why he chose that line.
Lisa Mladnich recommends savoring scripture and taking time to learn it too. Avery shares a reflection on Psalm 95 as it relates to hearing God in our lives and responding to His call.
It's all rainbows in this week's Mary Moment as Sarah Reinhard shares a quote from St. Bridget.
This episode of Catholic Moments is sponsored by CatholicMatch.com, the Leading Catholic Singles Community. Share your feedback at 206-339-9272, comment here on the blog or email lisa@catholicmom.com.
Links for this Episode:
About the Author