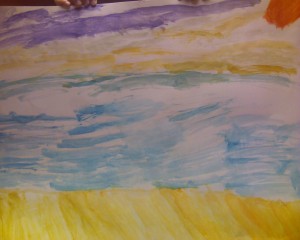 Different strokes of the paintbrush, hues of various shades, separate ideas but one picture, Imagination on poster board, a creation from his hands, his moms' favorite sight in all the world - the sunset.
We all have different ideas that eventually seem to merge into one picture that is defined yet blurred. Have you noticed the many times in life when no matter how long and hard you considered "why on earth something like that would happen?" but you could not figure it out? Then ten years down the way it appears, the answer as if by magic, the reason for the situation and it all makes complete sense to you, the picture comes together. It is constant; things change, people move about the world, babies are born, older people die it is an unending cycle. However, when you, yourself are just a stroke of the paintbrush you cannot see the picture.
You see God is the painter. He has the idea, the picture and the paint. We are His creation. God has a vision for our lives, the hue, and the stroke. He knows how He wants us to be a part of the picture. Our goal is to be open to the hue of our life and let Him guide us. We need to give Him permission by relinquishing our "control" and let God guide us. He speaks to us in signs, in prayer, through people, through thoughts we need only to look, listen, pray and to be open to His full picture. Instead of resisting the way we need to embrace His way.
Different strokes of God's paintbrush, hues of various shades, separate ideas but one picture, Imagination on Earth and in the Heavens, a creation from God's own Hands, God's favorite site in all the world Humanity (us).


Copyright 2010 Lori Hadorn-Disselkamp

About the Author

Lori Hadorn-Disselkamp - mom of 4 teens/wife for 20+ years. Lori has been writing at her own website Faith Filled Mom. She writes about the journey of faith we live daily and the ability to recognize God. She is a retreat director at Sacred Heart Academy HS. She just earned her MA in Pastoral Ministry as well as a certification in spiritual direction.