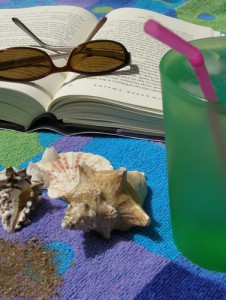 Welcome to the Dog Days of Summer Catholic Fiction Giveaway. We have 28 books and 24 different titles, extending from adult fiction genres (including sci-fi/fantasy, women's fiction, general) to young adult, middle grade, and children's fiction.
Thanks to the following authors, publishers, and donors who made this possible: Bezalel Books, Pauline Books & Media, Sophia Institute Press, Nancy Belanger, Regina Doman, Anne Faye, Carol Grund, Ellen Gable Hrkach, Mark Sebanc, and Gerard Webster. Note: CatholicMom.com receives a small percentage if you purchase any of these books using the links provided below to Amazon.
To enter: Leave a comment by midnight PT, August 31, 2010. One entry per person, please. We'll randomly select winners and contact you for your mailing address.
ADULT FICTION

Jim Anderson & Mark Sebanc
"The Stoneholding" is the first installment in a major new epic fantasy series. It is the tale of Kalaquinn Wright, who is called to assume the mantle of leadership during a time of unprecedented upheaval. In the second book, "Darkling Fields of Arvon," his adventures continue, as he passes through many dire perils. Reminiscent of the stories of King David, Frodo Baggins, and the mythical realm of Narnia, fantasy fans will recognize the many classic influences that inform the series. As the co-authors explain, however, they do not write Christian fantasy, but they are Christians who write fantasy.
John Desjarlais
When professor Reed Stubblefield is disabled in a school shooting, he retreats to a rural cabin to recover and write a book. Oddly, in the chill of early March, the campgrounds and motels are filled with the ill and infirm seeking the healing touch of the town's new parish priest, reputed to be a stigmatic. Skeptical about religion, Reed is drawn into a friendship with the cleric. The priest collapses and bleeds to death right in front of his parishioners. Discovering he's the prime suspect, Reed races to find the truth before he gets arrested . . . or killed.
Miriam Ezeh
A truly astonishing and engaging story of what it means to live responsibly in a time of love, war, and peace. Should be required reading for every teenager and adult, wherever they live, whatever their situation. I could not put it down. Would make a great movie. - Stanley D. Williams, Ph.D. Author, Producer, and Distributor Nineveh's Crossing
Anne Faye
Lucy Lyons is trying to escape her past. Content to work as a librarian and live with her dog, all she wants is a simple life with no complications. When she decides to take the plunge and write a novel during National Novel Writing Month, she gets more than she bargained for. Her writing will not only force her to face secrets, but will also put her in the path of a handsome artist who shares her love of the written word. "Through the Open Window" is an engaging novel about the secrets we keep and hopes for second chances.
Ellen Gable
The gripping story of one young woman's spiritual journey from high school to adulthood. Interspersed throughout the story are flashbacks to Emily's great-grandmother's troubled life, with a climax culminating in the surprising revelation that Emily and her great- grandmother are connected more deeply than by ancestral ties alone. Based on a true story.
Ellen Gable
Caroline Martin's life has finally taken a turn for the better. After years of hard work, she has met a virtuous and wealthy man whose love seems to promise the kind of life realized only within the comforting novels she keeps on her night table. Tragedy, however, will teach Caroline of the complexity with which God Himself authors the lives of those who turn towards him.
Anabelle Hazard
Innocent idealist and devout Catholic Alana O'Keefe prayed three Hail Mary's everyday for her future husband from six years old. Heaven answers her prayers in a most unexpected manner by sending her charming Atheist Lukas Swenson. Heaven intervenes and orchestrates a surprising meeting with a woman he cannot forget. What follows is a series of twists and turns, of hits and misses, of discovering God's will and one's destiny and finding true love in a romance that can only be written by the Mother of God.
Rosemary McDunn
It's amazing how naturally McDunn weaves God's sovereignty into the story to explain why God allows hurt, death and disappointment into our lives. The story has a lot to say about how, in the midst of tragedy, God is at work through the silent, selfless works of sacrifice and love, which are paid back one hundred fold. [It] is the type of historical fiction that is at once both educational and morally sound. - Pam Williams, Public Middle School Teacher, Catholic Religious Education Instructor
Brad Thomas
"Joey's Journey" follows one man's path to the papacy. Electing an American pope won't come easy but God's will certainly prevails amidst drama and deception. Filled with inspiration and hope, "Joey's Journey" is a "must read" that will keep the reader engrossed until the very end where the words "Habemus Papam" will bring a joyful leap to the reader's heart!
Gertrud Von Le Fort
"One of the great Christian classics of all time." — Michael O'Brien. Blanche de la Force enters a Carmelite convent during the French Revolution — but is she strong enough to take the crown of martyrdom that awaits the Carmelites? An enthralling spiritual novel.
Gerard D. Webster
Ward McNulty had it all: successful career, beautiful girlfriend, and rich and powerful friends. But he gained it at the cost of his faith…a story of fall, forgiveness, and redemption…of family values against a worldly culture…and of a lost son coming home.
Ann Margaret Lewis
A sudden death in the Vatican. An international incident over stolen artifacts. A priest's wrongful imprisonment for murder. Follow the greatest detective ever as he investigates three baffling cases at the "express desire of his Holiness, the Pope." Stories include: "The Death of Cardinal Tosca," "The Vatican Cameos," and "The Second Coptic Patriarch." You'll encounter baffling crimes, rich, historical settings, and a fateful encounter with Father Brown! These thrilling tales of murder and intrigue vividly bring to life three of Watson's "untold tales!"
YOUNG ADULT, MIDDLE GRADE, & CHILDREN'S FICTION
Patti Maguire Armstrong
This is the perfect story for 3rd through 6th grade Catholic kids and classrooms with excellent writing, vocabulary and thinking activities incorporated at the end of the book. It combines a great story with age-appropriate apologetics and is endorsed by best-selling authors Emily and Jeff Cavins as well as Bishop Zipfel.
Nancy Carabio Belanger
Fifth-grader Olivia has moved to a new school and is eager to make friends. Her best friend quickly becomes someone she has never seen-St. Therese of Lisieux. With the help of her grandma, Olivia learns about the Little Way of serving God and how it can change everything! This beautifully illustrated novel celebrates the life of St. Therese and will inspire children to follow her example and discover their own Little Way miracles.
Rose Maria Dennis
Beautiful story of a young girl's quest to learn about the beauty of the Rosary.
Regina Doman
In this high-tech thriller, Alex returns from college to find that his dad has inadvertently discovered a mysterious website which leads to sudden wealth. But at what cost? Mayhem, martial arts, and murder ensue even as Alex pursues marriage with Kateri who wonders why she's letting herself be a part of the madness. But in the end, it just might be the anti-technological Kateri who saves the day...
Christian M. Frank
George Peterson would rather wrestle at a big high school, but he has to go to a new school run by Catholic parents: John Paul 2 High. Only seven kids in the whole school! The building is falling apart. Weird things keep happening. And then there's Allie Weaver, drop-dead gorgeous, barely Catholic. Why did her parents suddenly transfer her to John Paul 2 High? And what is she so afraid of?
Christian M. Frank
Celia Costain finds it tough being thought of as the perfect principal's daughter at John Paul 2 High. Being Catholic has never been easy, but now Celia's friends are all dating and say she's uptight. Celia can deal with that, but how can she relax with someone stalking her friend Allie? And no one will tell her what's really going on!
Carol A. Grund
Sixth-grader Anna Mei Anderson is not only the new kid at school—she's the new kid who's Chinese and adopted. But when she starts transforming herself into someone less unusual, she soon realizes there's a price to pay for her deception. God must have a plan for her—but how will she figure it all out? The answers only come when Anna Mei starts listening to her own voice, and the voices of the people who've cared about her all along. Humorous and poignant, wholesome but not preachy, it's a story for anyone who has ever worried about fitting in.
Joan L. Kelly
The adventure begins when a young farm girl, Katie, finds an unconscious teenager in a meadow. When she and her siblings try to help him discover answers, they find themselves involved in intrigue and possible danger. Who is this mysterious stranger who suddenly shows up on a small Illinois farm? Where did he come from? Where is he going? This first book in the trilogy takes the reader on an adventure filled quest!
Joan L. Kelly
The adventure, which began in "Hiding the Stranger in Hickory Valley," continues as our hero is followed by vicious kidnappers. While the teen waits at the house of a new friend, he finds adventure and narrowly escapes recapture in the town of Bedford. As our young stranger continues the quest to find his identity and reach home, his memory begins to return. He has the courage to run through fire and the wisdom to help Chris with a secret. This is the second book of the 'Hiding the Stranger' trilogy that takes the reader on an adventure filled journey!
Joan L. Kelly
The adventure that began on a small Illinois farm comes to a conclusion in the active city of Chicago. Our teenaged hero's quest to find his identity and reach home culminates at the historic Union Station. See how one boy's fate will be changed by another's act of total self-sacrifice. This is the third book in the trilogy (Hiding the Stranger on Baker Street and Hiding the Stranger in Hickory Valley) that takes the reader on an adventure filled journey! See why Mrs. Kelly's work has been called "highly recommended for community libraries."
Joan L. Kelly
Becoming a part of a group and having friends can be a lot of fun; however, we have all gone through times when we didn't quite seem to fit in. Rob Sanderson and his friends knew that they weren't part of the 'popular' kids, but that didn't stop them from accepting each other and facing life's challenges. Join this group of misfits as they combine forces to find a way to outwit dangerous spies and save their new classmate and her family. Each copy includes a student resource section in back with reading comprehension questions, word searches, and writing assignments.
Diane M. Lynch (Ed.)
This collection of twelve short fiction stories includes a page of reflection and discussion questions after each story. Each story features a different aspect of the ups and downs of friendship and how the friends confront and resolve their problems and misunderstandings through faith and good humor. Perfect for classroom use as well as by middle-grade readers ages 8–12.
Claudia Cangilla McAdam
Fear drives me forward as I rush down a rocky path in Jerusalem, trying to sort things out even as dusk makes it harder to hurry. Am I really an American girl, cast back to the time of Jesus? I don't know anymore. But I do know that something awful is about to happen to my Jesus: they're going to arrest him tonight, and kill him. It's up to me to save him, hurrying down this dark path toward Gethsemane, toward the turning point of all history, the attempt to kill Jesus . . .
To enter: Leave a comment by midnight PT, August 31, 2010. One entry per person, please. We'll randomly select winners and contact you for your mailing address.
//
About the Author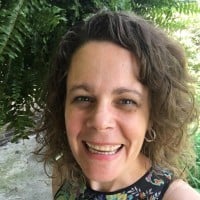 When she's not chasing kids, chugging coffee, or juggling work, Sarah Reinhard's usually trying to stay up read just one…more…chapter. She writes and works in the midst of rural farm life with little ones underfoot. She is part of the team for the award-winning Catholic Mom's Prayer Companion, as well as the author of a number of books. You can join her for a weekday take on Catholic life by subscribing to Three Shots and follow her writing at Snoring Scholar.