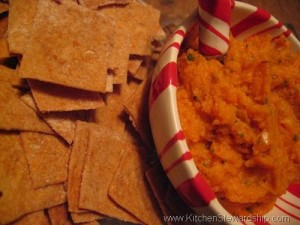 I love hosting people and sharing food together. My dishes may not always look so fantastic, but I put a lot of effort into both taste and nutrition. I take deep joy in watching guests appreciate my food as they eat, and a sort of secret glee that Iím serving something thatís probably healthier than anything theyíve had in a long time.
I see hosting visitors or bringing a dish to pass as a challenge: how can I make something people will truly enjoy, that has either a hidden or overt powerful nutritive boost, and that is frugal enough that I donít mind sharing, even if by chance no one appreciates the effort?
A dip is the perfect grab and go dish for a big gathering, in my opinion. People love to be able to cruise the appetizer table, grab a cracker or veggie, dunk, and be on their merry way.
Recipe: Sweet Potato Garlic Spread
With a gorgeous autumn orange offset by the deep green of fresh parsley, this simple, nourishing spread has everything going for it: seasonality, aesthetics, quick prep, and even an immunity boost for the folks rubbing shoulders while they sample your real food appetizer. I serve it with homemade sourdough crackers, but itís even better with my other homemade cracker recipe that tastes just like Wheat Thins.
Ingredients:
3 small or 2 large sweet potatoes (~4 cups)
2-3 cloves garlic, minced
1-2 Tbs. extra virgin olive oil
1 1/2 tsp lemon juice
1/2 tsp oregano
1 Tbs chopped fresh parsley
salt and pepper to taste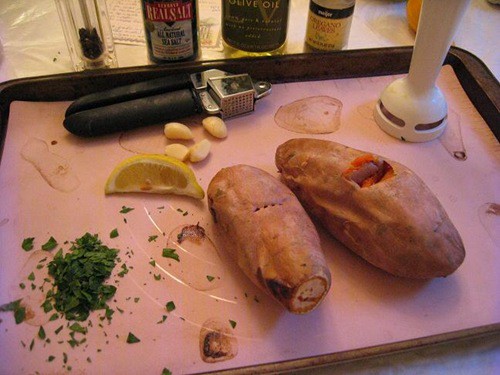 Why yesÖthere are four garlic cloves in this photo. It was zangy, with emphasis on the ZANG!
Method:
Bake sweet potatoes until soft. I like to simply scrub the skins, place the whole potatoes on a cookie sheet or baking dish, and bake along with another meal Iím making sometimes a day or two before I need to make the appetizer recipe. If baking alone, 400F for 45-60 minutes should do the trick, depending on the size of your sweet potatoes. Cool completely, then peel and place into a medium bowl.

Mash somehow or another: a hand blender is my favorite, but you could use a food processor, a potato masher or even a sturdy fork.

Optional step: sautÈ the garlic in the olive oil over low heat until aromatic. I usually choose to skip this step and just go with fresh for the immunity-boosting properties of raw garlic.

Add garlic, oil, and all the other ingredients to the mashed sweet potatoes and mix until uniform. You can adjust the garlic to taste: more for adults who love it and less for children. Keep in mind that the intensity of the garlic will increase quite a bit, even if the spread only has to wait in the refrigerator one night. I like to add a bit extra lemon juice, because that zing gives the whole dish something special to talk about.
Tip: Plan to make homemade chicken stock the same week you need to take this dip somewhere so that you can buy one bunch of fresh parsley without waste.
You can serve the sweet potato spread with crackers of any kind (Iíd recommend Wheat Thins if youíre going with purchased crackers; the sweetness is actually just perfect to compliment the garlic). Other tasty options include tortilla chips, toasted pita chips, mini bagels, or even fresh vegetables. Itís especially attractive on cauliflower florets.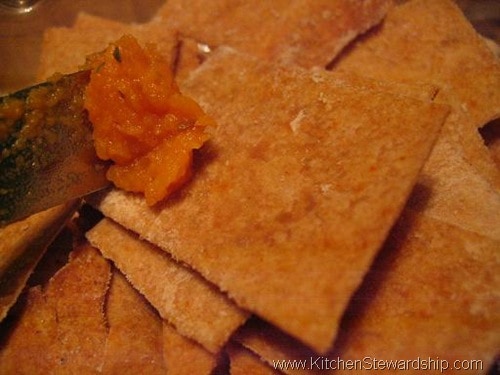 My son requested that I made the homemade crackers and this dip for the teachers at his school when they had to stay late for parent-teacher conferences. I just love that it seems par for the course for him to expect his mom to make homemade crackers to share, and that he thought others would love them (they did!). It warms my heart that healthy food has become so natural to him!
You can see a video of this and another great party appetizer if you check out the cooking eCourses for which I teach at GNOWFGLINS.com.
Copyright 2010 Katie Kimball
About the Author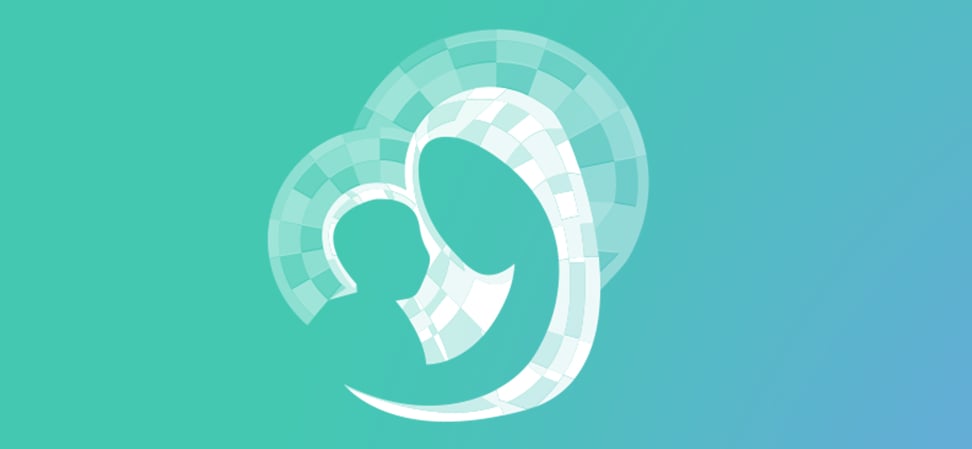 We welcome guest contributors who graciously volunteer their writing for our readers. Please support our guest writers by visiting their sites, purchasing their work, and leaving comments to thank them for sharing their gifts here on CatholicMom.com. To inquire about serving as a guest contributor, contact editor@CatholicMom.com.