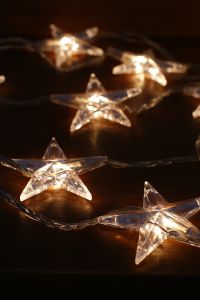 Every year at this time my dad would test the lights that were to be hung on the Christmas tree and in the windows of our fifth story apartment. He'd lug the box of lights down from the deepest corner of the topmost closet shelf and cut the twine that had been triple-wrapped around it. (My dad's overzealous method of securing a storage box was to flap-tuck and securely tape it closed, and then give it a superfluous going-over with several circlings of sturdy twine. Go figure.) After tucks and tape had been undone, the lights were removed from the box and, to my brothers' and my total delight, plugged in. It didn't matter to us kids whether a few lights had inexplicably burnt out while in storage, or one or two of the fragile glass bulbs had shattered; that first taste of Christmas was always as sweet as could be.
This little ceremony took place annually at our house on December 13, the feast of St. Lucy. St. Lucy was a girl martyr whose name means "light." According to Francis X. Weiser's "The Holyday Book," St. Lucy's feast at one time fell on the shortest day of the year, and thus became associated with many ancient light and fire customs. Before the Reformation, St. Lucy was, for the people of Sweden and Norway, "the great 'light saint' who turned the tides of their long winter and brought the light of day to renewed victory." No wonder that my mother, who was devoted to St. Lucy, designated the saint's feast as our own Light-Testing Day.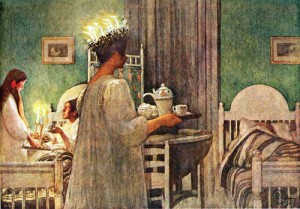 I've continued this tradition with my family. Every year we plug in our light strings to see which ones have survived the extremes of temperature in the attic. Usable lights are then set aside until Christmas Eve, when we drape strings of lights on everything but the cat and the kitchen sink. Testing the lights on her feast day is a simple way to honor St. Lucy, and reserving the actual lighting of Christmas lights until late on December 24th helps to focus attention on the holyday itself.
But decking all the halls on Christmas Eve can be a challenge, and was especially difficult when the kids were members of the children's choir that sang at the 7:00pm Mass. Since it wasn't officially Christmas until after that Mass had been celebrated, the children would depart from an unlit house. Once they left, I'd gather up the Advent trappings and toss them (my neatnik dad would be horrified) into boxes, then scramble around with light strings, extension cords, and power strips. Ninety minutes later the whole place was transformed, and the kids returning from Mass would vie with one another to see who would be first to spot the lights as the car approached the house.
I admit that it isn't easy to wait until Christmas to flip the switch on Christmas lights. I love lights, and I can't get enough of them. That's why a tangle of lights burns year-round in our fireplace to conjure up a warming fire, and a large Moravian Star lamp glows above the mantel in our living room. There's a string of fun popsicle-shaped blue and yellow lights festooning a branch in the corner of my bedroom, and a string of teensy-weensy bulbs blinking on a shelf above my desk.
The shimmer and shine is pretty. But lovelier still is the solemn beauty of the Advent wreath, whose measured lighting by a single weekly flame prepares the heart for the splendor of the Light that is to come. In the slowly lightening darkness, we wait patiently and in "joyful hope for the coming of our Savior, Jesus Christ."
And when He comes, we'll greet Him with gladness, merriment, and a blaze of lights!
Copyright 2010 Celeste Behe
About the Author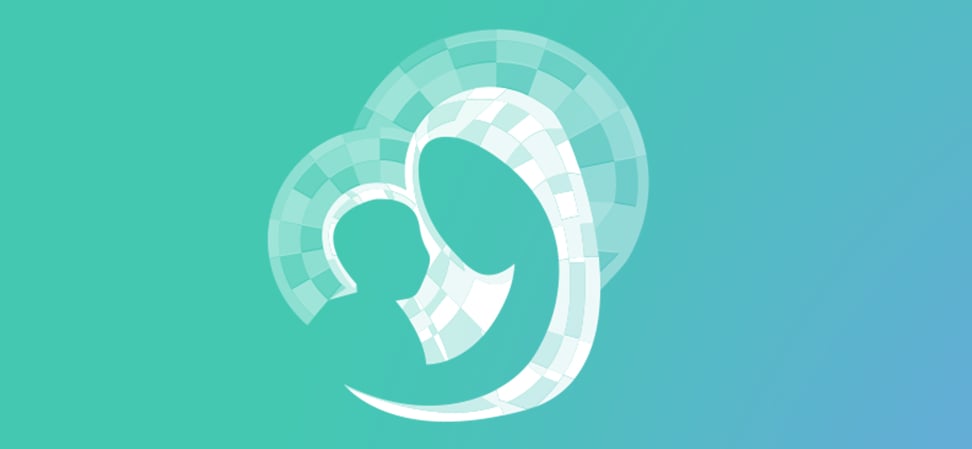 We welcome guest contributors who graciously volunteer their writing for our readers. Please support our guest writers by visiting their sites, purchasing their work, and leaving comments to thank them for sharing their gifts here on CatholicMom.com. To inquire about serving as a guest contributor, contact editor@CatholicMom.com.