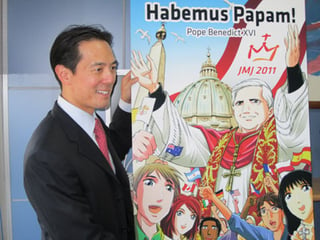 Summer is upon us and many of you will probably find yourselves looking for a way to distract children from screens in your home with forms of entertainment that are fun and uplifting. I've discovered the perfect solution: Manga Hero! I can't get enough of these great books, designed to both entertain and inform. I hope you enjoy my interview below with Jonathan Lin, the dynamic creator and publisher of this terrific series.
Q: Jonathan thanks for your time and for the great work being done by you and the Manga Hero team. For the uninitiated, would you tell our readers a bit about the Manga form of literature?
Manga is a form of comic books originating in Japan and based on a highly stylized illustrative approach to stories and vignettes featuring key characters. The word "comic" is a bit of a misnomer since the stories are quite serious and poignant. Similar to popular American comics like Superman, Spiderman or other Marvel hero-based comic books, manga covers a wide range of complex stories and subjects that can span vast genres and storylines. In Japan, manga is considered a standard form of entertainment and easy reading for all age groups. Manga typically contains a series of associated books that focus on a certain protagonist and his or her challenges.
In the last decade, manga has experienced explosive growth in popularity throughout the world, with millions of children and adults becoming fans of the medium which originated from Japan, so much so that it is considered one of Japan's most successful exports. We want to use manga as a tool to show the youth and the world that the Church is not afraid of modernity and evolving culture. It is not afraid to use, in this case, new and compelling forms of media to meet young people where they are.
There is an opportunity to reach out to people with an attractive form factor like manga to transform our culture and inspire interest in our faith. Manga is considered a cutting-edge form of entertainment and offers easy reading for all age groups. Pope John Paul II called for the use of new and different forms of media to reach young people where they are in order to build a culture of love and dignity. Manga is one such medium.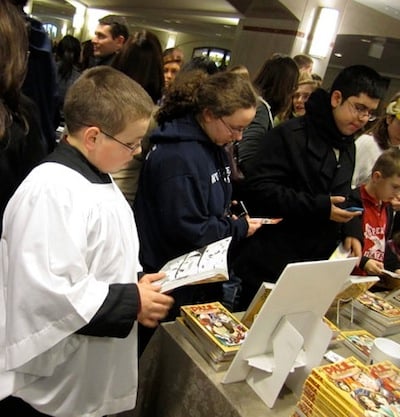 Q: How did you get the idea for Manga Hero and when was the first book published?
I was discussing with my parents about starting a business, and we were thinking about different ideas. Then my father asked how come there are no manga on Biblical stories or on the lives of the saints. I was thinking, that is true, how come there aren't any, or at least, very little? That's when the idea for MANGA HERO was born. I've also always wanted to do something that positively impacts society. With media playing such an influential role in our culture, especially on the youth, I felt this was an area that I could make a difference. Our first book, Volume 1 of Paul: Tarsus to Redemption, was published last year.
Q: Can you tell us a bit about the team behind Manga Hero and how you work together?
I function as the publisher for our books, basically working as editor, marketer, and accountant for Manga Hero. It has been a fantastic experience because Manga Hero has two extremely talented writers as well as an incredibly creative illustrator. Our writers, Gabrielle Gniewek and Matthew Salisbury, are from John Paul the Great Catholic University in San Diego, California. Their institution is dedicated to impacting culture at the intersection of entertainment media, entrepreneurship, and theology - a mission inspired by Pope John Paul II's call to use modern forms of communication to spread the Gospel and transform our culture. Our illustrator, Sean Lam, is a professional artist in Singapore who specializes in manga and is passionate about creating stories that promote positive virtues and heroism. He served in the Singapore air force as a technician and was a former art director for an ad agency. Because we're all over the place, we work primarily online or over the phone.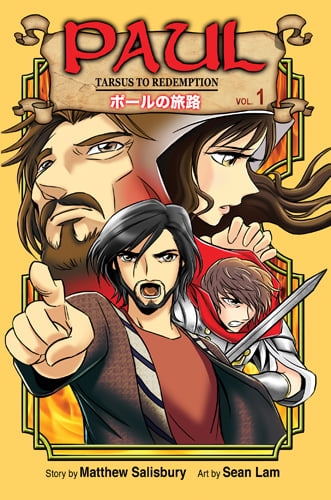 Q: Your books are amazing! And honestly, the stories of scripture and our faith truly do read like adventures! How did you decide which stories to feature and can you please give our readers an overview of the series so far?
We started with St. Paul and Judith because they perfectly capture the definition of a hero and heroine – people who are noted for their feats of courage and nobility of purpose, especially when risking or sacrificing their lives for something greater than themselves, in this case, their faith. Paul: Tarsus to Redemption chronicles the life of St. Paul of Tarsus, from his days as a persecutor, his road to Damascus moment, and ending w/ his ultimate voyage to Rome. Judith: Captive to Conqueror retells the ancient story of the beautiful, Jewish heroine who confronts an evil general, Holofernes, whose Assyrian army is on the verge of invading her country.
Q: I'm so excited about Habemus Papam! the manga that will be distributed freely at World Youth Day. Tell us about this project - what motivated you, and how does Pope Benedict come to life in this special feature?
We first approached World Youth Day last autumn to see if they wanted us to develop a manga centered on the event. We gave them several story concepts and they ended up choosing a biography on Pope Benedict XVI, because they felt many don't really know much about Pope Benedict XVI.
Habemus Papam! seeks to introduce Pope Benedict XVI to those who may not know much about him, except that he is the leader of the Catholic Church. This short story captures different moments throughout the Holy Father's life - as a young seminarian named Joseph Ratzinger, as a cardinal working with the late Pope John Paul II, and culminating in the moments leading up to his election as Bishop of Rome. The story then follows Pope Benedict XVI as he journeys to past World Youth Day events in Cologne and Sydney to teach young people about living meaningful and fulfilling lives.
Q: One hidden gem on the Manga Hero website is a great round up of Catholic saints - will these heroic and holy men and women ever be featured in book form?
Perhaps in the future we'll do a comprehensive book on these saints. The main problem is that with many of them there isn't that much biographical information about them. However, there is a lot more data on the modern saints, such as St. Damien of Molokai, St. Maximilian Kolbe, Blessed Mother Theresa, and Blessed John Paul II, so I can totally see us concentrating on these heroic figures.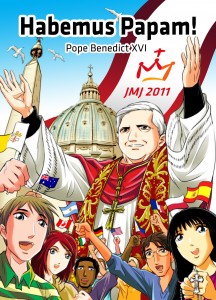 Q: What is next for the Manga Hero team?
We're busy working on several books for this year. One is an expanded version of the Habemus Papam! manga that will be much more detailed to be released after World Youth Day. It'll be a bit unorthodox because we'll also incorporate stories from people's own experiences with the Holy Father as well as from their own faith life. These stories will be open for submission during World Youth Day via a special Manga Hero website. We're also releasing this summer Many Are Called, a manga on Jesus' parable of the great banquet, and later on in the year, another manga, title TBD, on the adventures of Joshua.
Q: How can readers get a hold of your books?
They can find our books on Amazon.com or at various Catholic bookstores around the country. If their local store is not listed on our website, tell your readers to contact their local Catholic bookstore to carry our books!
Q: Are there any additional thoughts or comments you'd like to share with our readers?
As a startup publisher, we need as many people to help spread the word about us since our mission is to create media that promotes positive virtues for young readers. Your readers can also join our Facebook fan page ( http://www.facebook.com/mangahero ) to stay up to date w/ new releases and announcements.
About the Author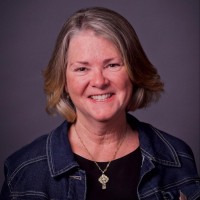 Lisa M. Hendey is the founder of CatholicMom.com, a bestselling author and an international speaker. A frequent radio and television guest, Hendey travels internationally giving workshops on faith, family, and communications. Visit Lisa at LisaHendey.com or on social media @LisaHendey for information on her speaking schedule or to invite her to visit your group, parish, school or organization. Visit Lisa's author page on Amazon.com.