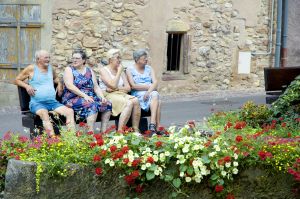 As a deacon, I frequently visit our local 'care center.' It's a place which presents a dizzying array of mostly late-age illnesses. Many if not most are people who no longer can function in the home, even if there is someone at home most all the time. And so, I'd like to write about the hours and days and maybe months leading up to a decision to place someone in a care facility.
I do wonder a bit about the age-profile of those who read columns on the Catholic Mom website. And again, maybe some contributors are more widely read than others. As I start to pull together words for this month's column, the reader that I envision might be a busy mom in, say her early to late 40's, although what we're about to get into could effect a mom in her 20's. This is about a mom who along with all the other things she's juggling, she and family have found out that mom's mom has developed the beginning symptoms of Alzheimer's or any of the related dementia type illnesses.
The onset presents a frightening and then demanding set of circumstances. Behaviors in the loved one begin to change. Loud noises or environment or simple tasks take on new realities. It is important to know that the person isn't acting this way on purpose. Among the behavior-affecting situations are these:
-Physical discomfort caused by medication or other illness
-Overstimulation caused by loud noises or a busy environment
-Inability to recognize what used to be familiar -- even in the home or remembering where things go
-Difficulty with activities or chores
-Problems with interaction or communication
Just picking the last one of these, there is a person that I've taken Communion to. She can respond in simple yes and no type communications. She can recite the Our Father with me and receive the Eucharist. But if you ask her to explain something from her earlier years, she becomes tongue-twisted and confused. It's seems as if most of her 'retrieval circuits' are scrambled, especially for things which require clear ways of expressing multiple events and reasonings.
If it's your mom who is in the early stages of this sort of disease, it takes great prayer and patience to deal with someone who isn't acting in the normal or predictable manner that she did before. Do your best to avoid challenging or criticizing or being impatient with her.
And in the later stages, when mom is trying to care for mom and still continue the with all previous routines and family demands -- it doesn't take much for caregiver stress to enter into the household.
What are the signs of caregiver stress? According to the Alzheimer's Association, the signs include denial, anger, social withdrawal, anxiety, depression, exhaustion, sleeplessness, irritability, lack of concentration and your own personal health problems.
Another experience from my work as a deacon. There is a late age gentleman that I've been taking Holy Communion to. We visit and share experiences. The man is still up to doing that. But his stamina and his own patience has waned dramatically. His dear wife called me one time and just broke down. She absolutely was at the point of breaking.
At one point in the conversation, I said, "I understand, I understand..." I meant that I understood what she was saying. But she took it that I understood exactly what it was like. She lost it and in a loud impatient voice, said to me, "NO YOU DON'T. YOU HAVE NO IDEA WHAT I'M GOING THROUGH." Gosh did I feel sad for her. I knew the outburst wasn't really aimed at me.
I tried talking to her about going shopping with my wife. Or going out for a meal with us. She put up the next and most frequently used defense for not changing anything: "I'm the only one that can hold this (situation) together." Restated: "He needs me and no one else can help." When in fact -- she is at the very edge of not holding anything together because she is caught in the controlling web of trying to live and cope with the circumstances of an often unpredictable and draining disease.
If you or a loved one is struggling with the entry into this illness, I'm hopeful you'll use the resources of the national Alzheimer's Association. There are also state and often local chapters as well. The federal government has resources.
In all things... and this is far easier written than done... stay in prayer. Silent, before daily demand sets in type of prayer. And, take care of yourself while managing the stress that you carry. Don't be afraid to reach out. Contact Lisa Hendey. Contact me as my wife and I do carry on a prayer ministry. Reach out to saints and holy ones. Reach out to your guardian angel. Reach out to your doctor or organizations at your hospital or other respite resources.
Blessings.
Deacon Tom
Copyright 2011 Deacon Tom Fox
About the Author

Deacon Tom Fox and his wife Dee are co-hosts of the CATHOLIC VITAMINS Podcast for over 6 1/2 years. Tom has also been a member of the Catholic Mom columnists team for eight years, and was a regular contributor to the Catholic Moments Podcast for three years. Most recently, Deacon Tom has been leading a project to bring Catholic radio to the north central Arizona community where he and Dee reside. Blessings!