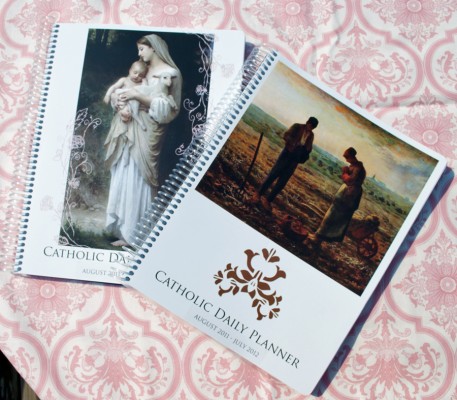 I literally can't wait for August 1, 2011. Along with the arrival of my son Eric home from Russia, I'll be turning the first page of the calendar on my brand new and beautiful Family Centered Planner. As a time management geek, I've tried many calendars over the years and in recent years have largely clung to a digital planning system. But when I learned about Catholic Mom Michele Quigley and the products being created by her Family Centered press, I couldn't wait to try one out!
I selected the large sized planner for the extra room to capture notes, lists and ideas. A gorgeous piece of Marian artwork graces the sturdy front cover. I love the organizational structure of the planner, mostly because of the tremendous priority it helps me place on truly living out my faith on a daily basis.
I'm very happy to share my recent interview with Family Centered founder Michele Quigley. Please note Michele's generous contest offer at the end of the interview and be sure to register in the comments for your chance to win one of these beautiful planners. But truly, my advice to you is that you purchase your planner today, immediately, and start making faith and family the greatest priorities in your life, and share the contest planner with a friend if you're selected in the contest - that way you're guaranteed to win by getting your life in order this year, placing faith and family squarely in the center.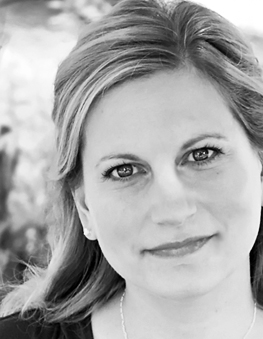 Q: Michele I'm so happy to share the good news about your Family Centered planners! Please begin by telling us a bit about yourself and your lovely family.
My husband Tim and I have been married for 26 years and we have 10 children ages 25 - 4. Four are grown, the oldest is married, two are in the military and one has a cabinet making business. Six are still at home and we home educate them.
Q: What prompted you to begin creating the planners? How has the project developed since you created your first planners in 2003?
I created the planner because I couldn't find one that had everything I wanted. The first one was simply a 3 ring binder planner but was surprisingly popular that first year.
The following year I mentioned to my husband that I'd like to offer more sizes and binding options. He did the research and made it happen and we ended up with a large sized planner (8½"x11") that comes spiral bound or 3 hole drilled and a small planner (5½" x 8½") that comes spiral bound or 7 hole drilled (configured to fit some popular retail binders).
I did change the format after the first year but haven't since. People like familiarity and when they get used to something and it works for them they don't want to change. I get that. I'm the same way. That being said though I do understand that my planner just isn't going to work for everyone and I do sometime gets requests for different formats --though at this point we're still just too small to offer more format options.
Last year I came up with the idea of offering different cover options and that too has been very popular.
Also, we only did a school year planner the first year but later added a regular calendar year planner so that we now have both (Jan - Dec. and Aug - July) though they don't overlap in that we only sell one planner at a time.
The planners tend to sell out every season. Because the planner has a shelf life we have to throw them away after a certain point if they don't sell and gosh I hate doing that. So we made a decision that after a certain point in the season we won't have anymore planners printed and we just sell what's left. Unfortunately we learned the hard way the first year that if we discount them at the end of the season we'll quickly go out of business since most people will wait for the discount. It's just not feasible for a business our size and we really do strive to keep our price fair and reasonable. But, if someone orders before the planner start date we will always reprint more if we have to. The Aug. - July planners go on sale in April and the Jan.- Dec. planners in Sept. so there's plenty of time. But if they wait to order until August or January we just can't guarantee we'll have any left.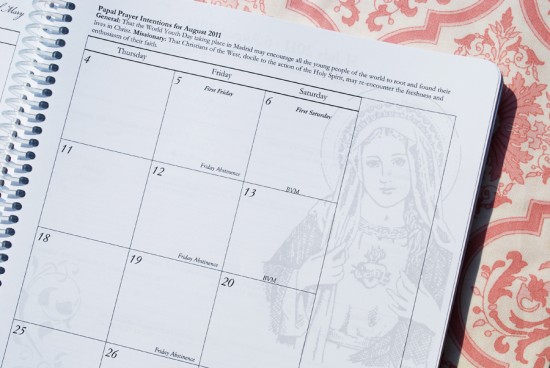 Q: What are some of the special features of your Family Centered planners? What makes them unique from other secular planning systems?
Our planner is uniquely and specifically Catholic. It has the Mass reading citations for every day (ordinary form); holy days of obligation; First Friday and Saturday devotions; and a daily rosary mystery reminder.
It's not a "Saints" calendar it's a liturgical calendar. Each day lists feasts and ferias as well as the liturgical color proper to the day for both forms of the Roman rite liturgy. The feast days are those that the Church celebrates in the United States. Last year we added the Extraordinary Form (1962 calendar use in the Latin mass) since the Motu Proprio has led many people to follow both calendars and attend both forms of the liturgy. This has been very popular.
Q: Why is good time management such an important factor of a Catholic mom's vocation?
I find that proper time management is essential to me fulfilling my vocation to the best of my ability. I would be lying if I said I was an expert at time management or that I always followed my own advice. But I do know that the times I make the effort bear the most fruit in my daily life.
Q: Since you're in the planner and time management system business, I'm making an assumption that you are a pretty organized mom - is this correct? What are some of the keys to good time management in your life?
I try to be but it's certainly not my natural tendency. I have to work at it and the planner helps me do that in a lot of ways. My husband is naturally organized and has told me for years that I needed a plan. I resisted because I was just sure it would crush my spirit. The truth is that it has set me free. Knowing what needs to be done then accomplishing that leaves me feeling like life is much less chaotic and much more manageable. Of course, like everyone else I have good and bad days but overall things just flow better when we follow a routine.
Q: For someone who is just getting started with committing to using a calendar or planner, what are a few recommendations you can give for getting started with being more organized about your time?
Be realistic. If you're just starting take baby steps. My natural bent is 'all or nothing' but that only leads to discouragement. Tackle one thing at a time and make it a habit, then move on to the next thing.
I had to train myself to LOOK at my planner everyday because I found that simply writing things in it didn't just make it happen. :) I keep my planner open on a book stand by my computer so I can see at a glance what's going on and since it isn't lying flat on my desk, things can't be piled on top of it.
Q: What have been some of the greatest blessings you've experienced from employing and share Family Centered planners?
The people who buy our planners are wonderful. They share their stories with us, encourage us and truly humble us with their kindness. I never cease to be amazed at the way God works. Just recently at a conference a woman came up to me and told me that my planner had saved her home school. I wanted to cry because I know how inadequate I am and yet God uses that anyway and beautiful things happen. It's truly a blessing.
Q: What are your plans and goals for the future of your Family Centered apostolate?
There are several projects ideas that we are working on. We really have a heart for doing what we can to promote family life but we have to be very discerning. I have a tendency to want to run headlong into things but thankfully my husband is wise and patient. Our own family absolutely has to come first and because of that we've had to say no to some really great ideas. We're truly just trying to listen and move forward as the Holy Spirit guides. Life has been tumultuous the last several years as two of our children were diagnosed with a chronic disease that requires daily attention. It's taught us some very valuable lessons about what is and isn't possible as well as what's ultimately important.
It also meant we stopped shipping outside the US. It's just more than I can manage right now since international shipping requires a trip to the post office and standing in line while domestic shipping can be done from home and picked up at my door. That being said I do hope to be able to return to offering it in the near future.
Something that's very important to us is continuing to offer a quality product. As such we've found it important to limit our focus lest we become too scattered. In addition to being the production manager of our business (we punch and bind all the planners ourselves) my husband works a full time job M-F and directs the RCIA program at our parish. I handle orders, customer service and do the actual making of the planner on the computer --which can literally takes months since I enter everything by hand and have to squeeze it all in in between homemaking, homeschooling, and helping my husband with RCIA. It's a wonderful life but it is indeed quite full. Our older children lend a hand and we work hard to keep everything "Family Centered"!
Visit the Family Centered website and order your planner today!
Contest Alert: Michele Quigley has generously offered our readers a chance to win your pick of one Family Centered Planner. To enter, leave a comment below by Monday, July 25 at midnight pacific time. Only readers with United States mailing addresses are eligible to enter this contest - the winner will choose from the selection of products at Family Centered. Update: Congratulations to Debbie, the winner of our Family Centered Planner. Enjoy!
About the Author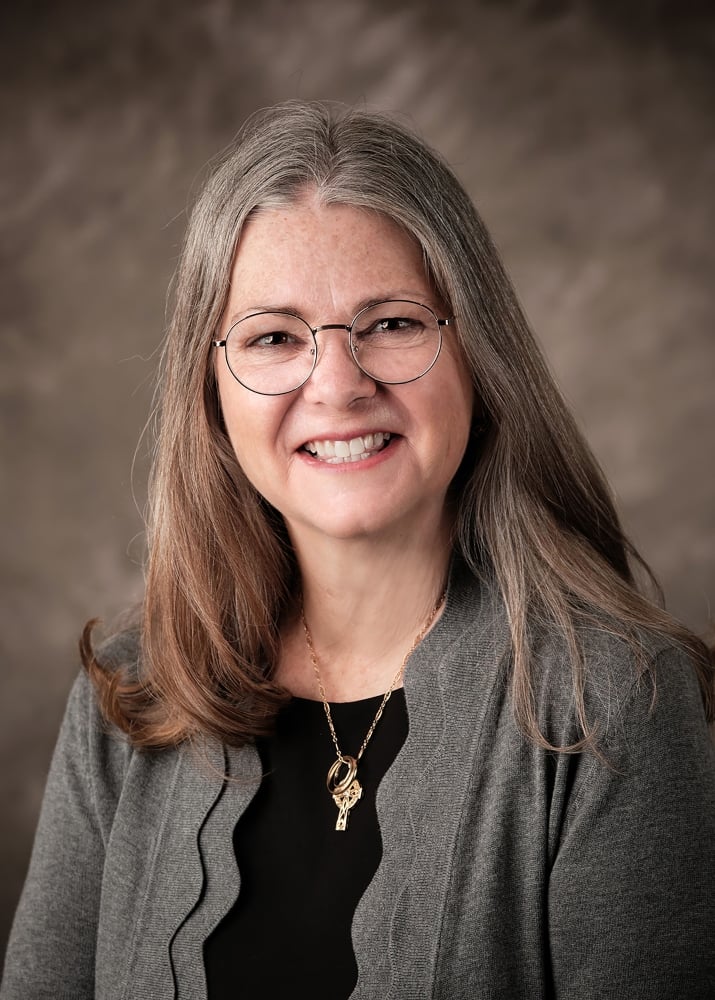 Lisa M. Hendey is the founder of CatholicMom.com, a bestselling author and an international speaker. A frequent radio and television guest, Hendey travels internationally giving workshops on faith, family, and communications. Visit Lisa at LisaHendey.com or on social media @LisaHendey for information on her speaking schedule or to invite her to visit your group, parish, school or organization. Visit Lisa's author page on Amazon.com.