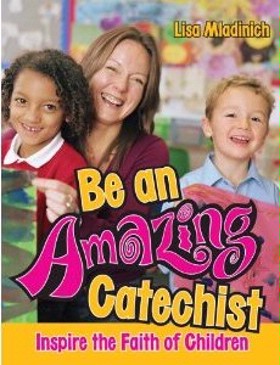 Be an Amazing Catechist; Inspire the Faith of Children
By Lisa Mladninich
Our Sunday Visitor Press, 29 pages
I have been a catechist and a teacher for over a dozen years. When I began my career as a catechist, I was an enthusiastic high school student who had helped her mother teach CCD for years. My years of experience and Master's in Education, taught me a lot about how to reach the hearts and minds of children with the timeless truths of our Faith, teaching them how to love Our Lord and Our Lady, and live a life of grace through the sacraments.
How much trial and error could I have been spared if I had been given this wonderful book at the outset of my journey as a catechist! It's not necessary to have a Master's Degree or twenty years in the classroom to reach the hearts and minds of children. If you love the Faith, and are eager to learn how to impart it effectively, read this book, which should be given to every new catechist along with their textbooks. Its easy to read, engaging from beginning to end with a good mix of visuals, and many specific ideas of how to use what every catechist has at their disposal; a Bible, their Catechism books, and a computer.
In a concise yet conversational style, Mrs. Mladninich discusses basic pedagogy; from learning styles to classroom management. She helps the catechist understand her particular student's age and educational needs, while employing her God-given gifts to impart the love of God. No two catechism classes are alike, says Mrs. Mladninich, but they can all be amazing as they train up young souls to know, love and serve God.
"Be an Amazing Catechist" helps the catechist know what to do when the inevitable challenges arise, for example when the students ask those pointed questions we all fear and how to lovingly handle challenging students who disrupt the class She shares secrets to getting the students personally engaged in the lesson whether they are kinesthetic learners who must keep moving, students with special needs. She offers ideas to get all one's students parents engaged in the process, how to teach them to pray, and how to use celebration of the Church's celebration of the Liturgical Year (Christmas, Easter, etc) in lesson plans. She suggests how to tie in craft, dramatic and musical activities to keep the children's interest, and most importantly, how the catechist must nourish her own soul with the grace necessary to give so much to others
This handbook can be helpful to seasoned catechists as well, for there are many new resources, like the website Catholic Mom or the USCCB's online Bible which are relatively new, and can offer new approaches to teaching the Faith which respect the doctrinal orthodoxy of the Catechism of the Catholic Church while employing the latest technology. My favorite aspect of this book is Mrs. Mladinich's enthusiastic tone as she encourages her reader in their mission;
"With daily attention to prayer and the sacramental life, you and I can revolutionize the teaching of the Faith. We can thrill our students with the Truth, protect them against sin, and set them on fire with the knowledge of the Faith!"
Being a catechist is a wonderful means of participating in the Great Commission in Matthew's Gospel, "Go, therefore, and make disciples of all nations, baptizing them in the name of the Father, and of the Son, and of the Holy Spirit, teaching them to observe all that I have commanded you." With this booklet in your hands, and Christ at your side, you can consider yourself well prepared to make your students into disciples, and know that, through them, you are changing the world!
Order Be An Amazing Catechist and Support CatholicMom.com with your purchase
Copyright 2011 Leticia Velasquez, Catholic Media Review
About the Author