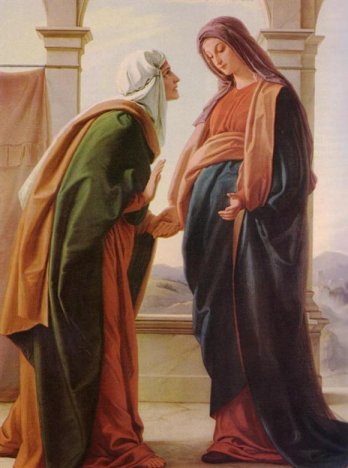 "When Elizabeth heard Mary's greeting, the baby leaped in her womb, and Elizabeth was filled with the Holy Spirit. 42 In a loud voice she exclaimed: "Blessed are you among women, and blessed is the child you will bear!43 But why am I so favored, that the mother of my Lord should come to me? 44 As soon as the sound of your greeting reached my ears, the baby in my womb leaped for joy. 45 Blessed is she who has believed that the Lord would fulfill his promises to her!" (Luke 1:41-45)
Each member of that little moment in Christ's life teaches us something about how to recognize Christ. We are to observe Christ in our words, which Elizabeth and Mary do. We are to imitate Christ in our acts; as Mary goes to Elizabeth. And we are to recognize Christ in our midst; in family relationships, and Christ in the unseen and the vulnerable; in the unborn.
And then, there is Mary's beautiful response
46 And Mary said:
"My soul glorifies the Lord
47 and my spirit rejoices in God my Savior,
48 for he has been mindful
of the humble state of his servant.
From now on all generations will call me blessed,
49 for the Mighty One has done great things for me—
holy is his name.
50 His mercy extends to those who fear him,
from generation to generation.
51 He has performed mighty deeds with his arm;
he has scattered those who are proud in their inmost thoughts.
52 He has brought down rulers from their thrones
but has lifted up the humble.
53 He has filled the hungry with good things
but has sent the rich away empty.
54 He has helped his servant Israel,
remembering to be merciful
55 to Abraham and his descendants forever,
just as he promised our ancestors."
56 Mary stayed with Elizabeth for about three months and then returned home.
Mary in modern times is often depicted as silent, with her lips in a permanent thin peaceful smile; but if we look at the gospel, she speaks. Mary says these words. She has an understanding of what she has submitted to; she has assented to be used by God. We don't think of her talking but that means we aren't really listening to the Gospel. Mary talks and what she says is filled with understanding of who Jesus is. If we would know Christ as we should, we should adjust our ears to listen to his mother. She brings us all the history of the Old Testament in this song, while attuning us to the new words to come. She prepares us to "wait in joyful hope" with this poetic Holy Spirit infused song.
Finally, the scene when read in Luke's gospel of Mary going to visit her cousin Elizabeth, evokes a warm sense of family, of service and of both intimate familiarity and great mystery. Here, we get a verbal snap shot of the incarnation. We are treated to the hidden presence of Christ within his mother's womb. Present, real and yet veiled, known and unknown, alive and growing, Christ is still Christ though in utero. Christ is still recognizable to Mary, to Elizabeth and to John and through Luke's gospel, to us. As Catholics, we know we are to know the Eucharist in just the same way and are to receive Him with the same welcoming heart as Mary, the Blessed Mother and St. Elizabeth do. And if we need further understanding of how we are to receive Christ, there is that wonderful moment of St. John leaping in the womb; a primal experience that every woman who has ever carried a child to term knows; and every person who has ever had the privilege of putting their hand on a mother's abdomen to feel the baby kick and had that moment of joy, understands. We are to tremble with joy at His presence.
Up Next: The Birth of Jesus
Copyright 2011 Sherry Antonetti
About the Author

Sherry Antonetti is a mother of ten children, published author of The Book of Helen and a freelance writer of humor and family life columns. You can read additional pieces from her blog, http://sherryantonettiwrites.blogspot.com.