Editor's Note: You may or may not realize it, but Sarah Reinhard, who's had a weekly spot here at CatholicMom.com on Fridays for a while, is hopelessly smitten with gadgets and tech-related stuff. So on Tuesdays, she'll be sharing "Tech Talk" with us, which will start with a series of app reviews and turn into…we don't know yet. If you have something you want her to review, feel free to email her. LMH
Since you might be trying your hand at the rosary this month in observance of October being the month of the rosary, here are my favorite three rosary apps for my husband's iPod Touch and my iPad.

iRosary
http://itunes.apple.com/us/app/irosary-catholic-rosary/id301340979?mt=8
By Opicury Software
$2.99
This is the rosary app that got my husband praying the rosary, and so it will always top my list of rosary apps. It also warmed me to using our electronic devices as prayer books, first thing in the morning. Though there are days when I do clutch an actual rosary, this is the next best thing. It lets you customize your beads. There's beautiful artwork associated with each mystery and it works flawlessly every time. It also includes the Divine Mercy Chaplet and a few other things that, honestly, I've never explored. A bit on the pricey side for an app, but well worth it.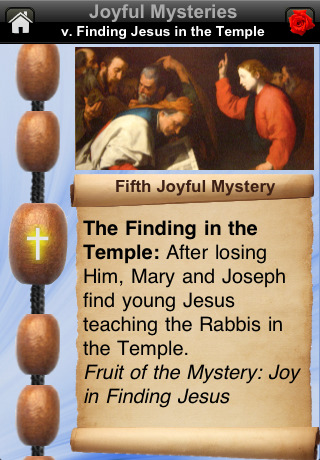 Scriptural Rosary
http://itunes.apple.com/us/app/scriptural-rosary/id416544127?mt=8
By Valent Richie
$1.99
I have a soft spot for the scriptural rosary and have yet to find the "perfect" app for praying it. This particular app has been updated and improved since I first downloaded it, and I like it quite a bit better. Right now, as far as I know, it's the only rosary app available. I'm pretty happy with it, truth be told, and I think the developer's open to suggestions—and I've already seen some! I especially like the paintings and artwork that help me reflect on the mysteries throughout each decade.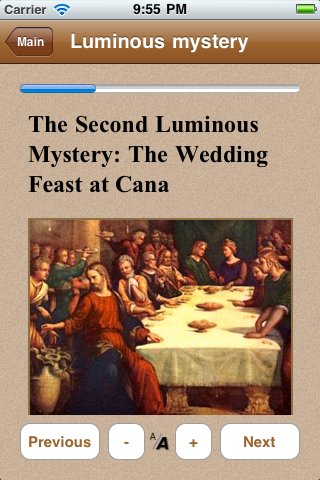 Rosary Miracle Prayer
http://itunes.apple.com/us/app/rosary-miracle-prayer/id373335581?mt=8
By Pauline Books & Media
$0.99
I love the work of the Daughters of St. Paul, and with this rosary app, they've done what they do so well. They have taken the rosary from a static prayer into a community event. This app is unlike anything else I have in my rosary app collection. You can personalize your experience, from the art you see to the intentions you want to focus on. This app has audio, and instead of giving you beads to move (or a screen to move between), you get five different images. You can also email from the prayer screen, if someone comes to mind and you want to share with them.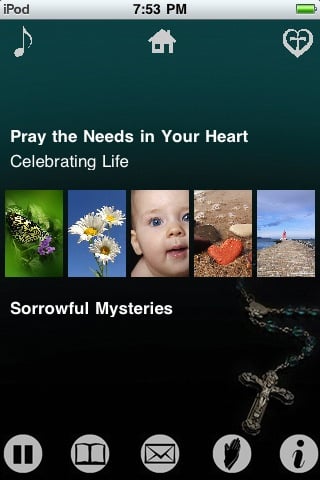 What's YOUR favorite rosary app? Recommend away in the comments!
About the Author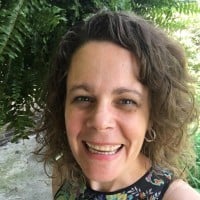 When she's not chasing kids, chugging coffee, or juggling work, Sarah Reinhard's usually trying to stay up read just one … more … chapter. She writes and works in the midst of rural farm life with little ones underfoot. She is part of the team for the award-winning Catholic Mom's Prayer Companion, as well as the author of a number of books. Follow her writing at Snoring Scholar.