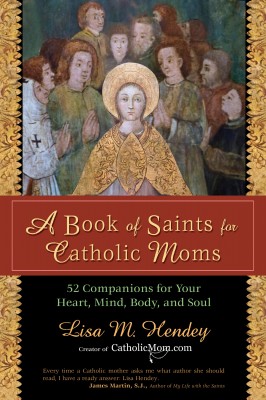 Have you heard about Lisa Hendey's new book, A Book of Saints for Catholic Moms: 52 Companions for Your Heart, Mind, Body, and Soul

?
I received mine a few weeks ago and really like it! I've always enjoyed reading about the lives of Saints, it helps inspire me and strengthen me in my own life and journey to holiness. But sometimes it is hard to read about the Saints lives and know how to apply their saintly wisdom to my own simple life. Life is very different now than what it was like for many of the Saints that lived decades and even centuries before us. It can also be overwhelming to try and read a whole book about one saint and I know there are many great Saints out there who I have never even heard of yet.
With Lisa's book, you can read a little bit about one saint per week, or every other week, or per month or however often your life (and children) let you. Each week you'll learn about some of Lisa's favorite saints that have supported her emotionally, intellectually, physically, and spiritually. With each Saint, she shares the Saint's Story in one or two pages, offers some Reflection prompts, provides some suggested Traditions and devotions to go along with the Saint, provides some Wisdom with a quote from the Saint, daily Scripture verses to help you pray during the week in connection with the weekly Saint's theme, and then even presents some "Saint-Inspired Activities" to do for "Mom" and "With Children". A daily Prayer for Our Family and Something to Ponder help bring it all together each week. By the end of the week, you'll know more about a new Saint that you may not have known about before. More importantly, A Book of Catholic Saints for Catholic Moms lays out clear directions for applying the wisdom and holiness of various Saint's lives to your own life so that you can grow closer to God and become a holier woman, wife and mother along with your family.
For example, the second week I learned about a Saint I either never knew about or had unfortunately never paid attention to until now: Saint Zita of Lucca who teaches us about "Diligence in Domestic Tasks". She is the patronage of "Homemakers, Domestic Workers, Servers". Here is an excerpt from "Lessons from Zita"
"Domestic responsibilities are on every mom's 'to do' list, no matter how much time she spends at home. For the most part, I tend to dread seeing items such as 'clean boys' toilets' or 'go to the market' on my list of chores. I'm not one of those women who is by nature a gifts domestic. My husband has put up for years with a wife who'd rather blog than bake and who's better at coding than cooking.

But learning about the life of Zita of Lucca has given me a new take on my attitude about household duties. The Reverend Alban Butler wrote of Zita that she fully embraced her domestic position as a gift from God. Zita saw all works as a form of penance for sin, and she was therefore happy to be in a position to serve the God she loved so greatly. She saw her constant obedience to her employers as a sign of her obedience to the will of God. For her, work and prayer were interchangeable, and a constant rhythm of devotions accompanied her day. Learning about Zita's attitude hasn't exactly made me joyous to see overflowing mounds of dirty laundry, but it has reminded me that my station in life is a blessing. With my work around the house, I serve not only my husband and sons but also the God who has gifted me with shelter, with comfort, with sustenance, and with the love of my family."
A Book of Saints for Catholic Moms could be a great daily devotional for yourself and for your family. It could also be a great gift-idea for a new mom or even a friend who is intrigued with the lives of the Saints and wants to learn more in bite-sized pieces. I think this book could also work for a group of Catholic mothers who meet monthly or weekly even. There are many possibilities and I am thankful to Lisa Hendey for taking the time to share her favorite Saints with us in such an easy-to-read and relatable manner.
Speaking of giving this away as a gift how would you like a FREE one?! Simply leave a comment with your name ON MY BLOG, if you'd like, an answer to the following "Something to Ponder" excerpt and your name will be entered into a drawing for a FREE copy of A Book of Saints for Catholic Moms." (Deadline: Monday, November 21)
"Do you have a positive or a negative attitude about cooking, cleaning, yard work, and other household chores? How can you better unite your household work with your prayer life?
Check out the cool book trailer for the book here!
Order A Book of Saints for Catholic Moms here
Enter to win A Book of Saints for Catholic Moms here
Copyright 2011 Erika Higgins
About the Author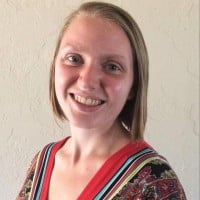 Erika Marie is a simple Catholic, Wife, and Mama. She relishes snuggles and free time with her family and enjoys reading, writing, blogging, and has a slightly obsessive addiction to creating Canva graphics. Enjoy more reflections by Erika at her personal simplemama blog.