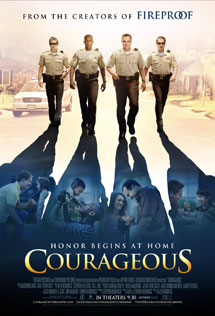 Editor's Note: In case you missed it in the theaters, I'm happy to share the good news that the DVD version of the fantastic movie Courageous launches today. The DVD version is chock full of amazing special features that will leave you even more inspired! Your purchase of the DVD of Courageous at Amazon benefits CatholicMom.com. LMH
COURAGEOUS DVD Launches Retail Sales Jan. 17, 2012
More than Two Hours of Features on CBA Exclusive Collector's Edition; Family Film Topped $32 Million at the Box Office, Spent 4 Weeks in Top 10
NASHVILLE, Nov. 22, 2011 – COURAGEOUS, which this fall packed theaters and touched lives across the country, launches retail sales nationwide with a Jan. 17, 2012, DVD release. An Exclusive Collector's Edition DVD includes more than two hours of bonus features and is available only at CBA: The Association for Christian Retail stores.
"COURAGEOUS is that rare movie combining an entertaining, engaging story with a vital, inspiring message," said Michael Catt, executive producer of the film and Sherwood Baptist Church senior pastor. "You'll be on the edge of your seat watching COURAGEOUS, then rise up when it's over, resolving to make a difference in your life and the lives of those you care about."
In its theatrical premiere, COURAGEOUS opened at No. 4, landing in the box office top 10 for four weeks. And in addition to that full 129-minute film, the extensive offering of bonus features on the COURAGEOUS Collector's Edition DVD includes:
• The Making of Courageous
• Outrageous: Outtakes & Bloopers
• Deleted Scenes
• Casting Crowns "Courageous" Music Video
• Commentary by the Kendrick Brothers
• Heart of Courageous
• The Story of My Father
• Courageous in 60 Seconds
• A Church of Prayer
• The Importance of Fathers
• Role of a Lifetime: Rev. Daniel Simmons
• Mark Willard: Ministering Through Music
• Erin Bethea: Serving Behind the Scenes
• Sherwood Pictures Retrospective
• Sherwood Volunteers
• Ministry and Resource Videos to Guide Your Next Steps
• Plus even more special features online through a link on the DVD
COURAGEOUS is also available on Blu-ray in a combo pack with the Exclusive Collector's Edition DVD at CBA retailers.
A Sherwood Pictures production, the COURAGEOUS DVD is distributed by Provident Distribution. COURAGEOUS tells the story of four men, one calling: To serve and protect. As law enforcement officers, they are confident and focused, standing up to the worst the streets have to offer. Yet at the end of the day, they face a challenge that none of them are truly prepared to tackle: fatherhood. When tragedy strikes home, these men are left wrestling with their hopes, fears, faith and fathering. Can a new found urgency help these dads draw closer to God…and to their children? Protecting the streets is second nature. Raising their children in a God-honoring way? That's courageous.
COURAGEOUS DVD DETAILS
RELEASE DATE Jan. 17, 2012
RUN TIME Approximately 129 minutes
RATING PG-13
DISTRIBUTION Provident Distribution
LANGUAGES DVD English 5.1 (Dolby Digital), Spanish
Subtitles: English, Spanish, Chinese, Tagalog, French, Vietnamese, German, Korean
Learn more at:
CourageoustheMovie.com
CourageousCatholicResources.com
Join us on Facebook:
Facebook.com/CourageoustheMovie
Follow us on Twitter:
Twitter.com/CourageousMovie
About COURAGEOUS and Sherwood Pictures
COURAGEOUS is the fourth film from Sherwood Pictures, a ministry of Sherwood Church and part of the congregation's vision to "change the world from Albany, Ga." Brothers – and Sherwood pastors – Alex and Stephen Kendrick co-wrote the film, with Alex directing and acting and Stephen producing. Sherwood Baptist Senior Pastor Michael Catt and Executive Pastor Jim McBride and Terry Hemmings, president and CEO of Provident Music Group, are executive producers.
About Provident Films
Provident Films, a division of Provident Music Group, develops, produces and markets faith-based films. Nashville-based Provident Music Group, a division of Sony Music Entertainment, has been one of the world's leading Christian entertainment companies for more than three decades. ProvidentFilms.org
Your purchase of the DVD of Courageous at Amazon benefits CatholicMom.com
About the Author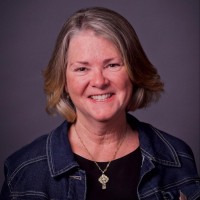 Lisa M. Hendey is the founder of CatholicMom.com, a bestselling author and an international speaker. A frequent radio and television guest, Hendey travels internationally giving workshops on faith, family, and communications. Visit Lisa at LisaHendey.com or on social media @LisaHendey for information on her speaking schedule or to invite her to visit your group, parish, school or organization. Visit Lisa's author page on Amazon.com.