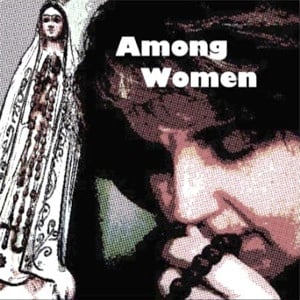 Moms who love God and Moms inspiring other Moms… that's what CatholicMom.com is all about. It is also part of the wisdom and mission behind the Among Women podcast.
Over the last three years, several writers from Catholic Mom have been guests on my weekly podcast, Among Women. Created in Lent 2009, Among Women grew out of my years of ministry in local churches, and my special regard for women's ministries.
The Among Women podcast and blog celebrates the beauty and grace of a Catholic woman's faith and life. It's faith sharing, teaching, and some good old-fashioned girl talk rolled into one. Each podcast has two segments: "Blessed are They" looks back on inspirational women who are saints, mystics, blesseds, or women from the Bible. The "Among Women" segment focuses on conversations with contemporary women on themes that are important to them.
Among Women has over 125 episodes on a variety of topics. Its growth and success comes from social media contacts, church bulletin announcements, and, of course, word of mouth. Why not share Among Women as a resource for the women in your life and parish?
Meanwhile, get to know the women behind the bylines here at Catholic Mom, by listening to a few episodes, including three shows with founder of CM, Lisa Hendey.
AW 121: "Each Life is a Masterpiece" with Leticia Velasquez
AW 117: "The Gifts We are to Each Other" with Patti Maguire Armstrong
AW 116: "The Advent of Advent" with Sarah Reinhard
AW 113: "Communing with the Saints" with Lisa Hendey
AW 107: "Making Peace with Your Body" with Kate Wicker
AW 89: "The Sacred Heart" with Ellen Gable Hrkach
AW 78: "Be An Amazing Catechist" with Lisa Mladinich
AW 62: "Catholic New Media" with Maria Morera Johnson
AW 59: "The Rosary Workout" with Peggy Bowes
AW 56: "The Handbook for Catholic Moms" with Lisa Hendey
AW 50: "Kids and the Bible" with Heidi Hess Saxton
AW 43: "Lisa's Reversion Story" with Lisa Mladinich
AW 39: "Mom of 10" with Patti Maguire Armstrong
AW 30: "Cause of our Joy" with Leticia Velasquez
AW 27: "The Coping with Breast Cancer" with Lisa Hendey
AW 26: "The Inspiration of Mother Teresa" with Donna-Marie Cooper O'Boyle
AW 15: "Mommy Blogging and Motherhood" with Kate Wicker
AW 13: "The Blessing of Music" with Susan Bailey
AW 11: "The Snoring Scholar and Great Books" with Sarah Reinhard
AW 10: "All Things Girl" with Cheryl Dickow
AW 6: "The Writing Life" with Patrice Fagnant-MacArthur and Leticia Velazquez
Copyright 2012 Pat Gohn
About the Author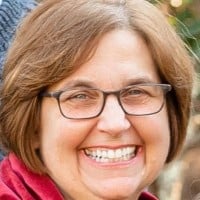 Pat Gohn is a married empty-nester with three adult children and four grandchildren. An author, catechist, speaker, and host of the Among Women podcast since 2009, her books include the award-winning Blessed, Beautiful, and Bodacious: Celebrating the Gift of Catholic Womanhood, and All In: Why Belonging to the Catholic Church Matters. She works in Catholic publishing as an editor. Visit PatGohn.net