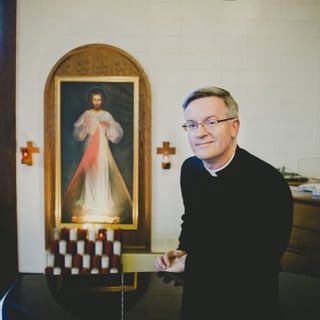 Editor's note: I recently exchanged emails with Fr. Bill Quinlivan, pastor of Blessed Sacrament Church in Tonawanda, NY. Fr. Bill was kind enough to spend a few moments sharing about his wonderful gift of song. To learn more about his music, visit FrBillSings.com.
I grew up in South Buffalo, in a neighborhood that was mostly Irish-Catholic, I'm one of six children. My parents were frequently singing, and I picked that up. The rest of the family have the ability but no interest. As kids we sang at the school St. Patrick's Day show, a song my grandfather taught Dad called "When Father Papered the Parlor..." and that was my first taste of singing in front of people. My aunt was a Sister of Mercy, and when the nuns came for dinner, Mom had up line up and sing, mostly songs from "The Sound of Music." After we sang, we escaped from the Nazis....JUST KIDDING!!
I had grand delusions of the entertainment industry in high school. Why I ever thought that the tall kid in the back of the chorus would be thrust into the spotlight, I'll never know. Or...maybe I now know. In God's plan, my attempts to sing for entertainment, my dreams of being a screenwriter and other such thing were just illusion. The one bit of "success" I had was that in my search-for vocation years of confusion I actually wrote one-liners/gags for comedienne Joan Rivers! But all the while the Lord was gently waiting and saying to me "Can we TALK??"
I heard my vocational calling from about age 11, but my mid-high school I convinced that it wasn't for me. However, no matter where I went, worked and searched for work, I ended up stopping in churches and praying. (though I was praying for MY will, not His...yet...) And people who were neighbors, co-workers and friends from church kept bringing up priesthood. In my late twenties, exhausted from searching and discouraged....I stopped finally, actually asked the Lord "What do YOU want?" and the answer was clear and bright and simple. And I have never seriously doubted that call ever since!
The love for music and vocation seemed to begin to work together as a seminarian when I volunteered for the ministry of cantor. I'd always been in choirs (even after the "Von Quinlivan Family Singers" retired!) but found myself discovering music as ministry....not entertainment. And something rather holy clicked. While I will always love the score of "Sound of Music" and the film of the same name, singing for God is something I now feel I was made to do. And in my ministry, I sometimes include a song in a homily, and enjoy planning music events for the parish. Over the years, my prayer in Eucharistic Adoration became verses in my journal, an outpouring of something hard to describe, other than a "Where I'm supposed to be" feeling, in the will of God and using the gifts He gives.
My latest CD is my fifth project, called "MercySongs/ MercyPrayers." Ironically, one of my new songs is called "The Sound of Mercy" with a subtle-as-a-sledge-hammer nod to the Julie Andrews movie. I wrote it a few years ago in preparation for a trip to Austria, which would include the "Sound of Music" bus tour. In a strange blending of vocation-meets-nostalgia, I spent some time praying in the church where the wedding scene was filmed. The photo on the back cover of the new CD was taken in the gardens of Salzburg where they shot the "Do-Re-Mi" sequence.
The music I listen to currently is mostly Contemporary Christian in style. Amy Grant is probably my favorite songwriter, with the late Rich Mullins coming a close second. I've become friends with Rich's buddy Mitch McVicker, who survived the car accident that took Rich's life fifteen years ago this September. I enjoy bringing Mitch to Blessed Sacrament to share his unique musical gifts. The Celtic rock band Ceili Rain is my favorite band, headed by Bob Halligan, Jr. who was actually born in Buffalo and adopted through Our Lady of Victory Homes as an infant. The institutions founded by Servant of God Father Nelson Baker still thrive, and I was blessed to be able to be with Bob the day he returned to the area and saw the awe-inspiring Basilica of Our Lady of Victory and prayed at the tomb of Fr. Baker.
Irish Catholic singer DANA is a dear friend as well, and I've been blessed to sing with her not only at concerts here in Buffalo but World Youth Day in Toronto and at Knock Shrine in Ireland. I was a guest on her EWTN music program "DANA and Friends" (video clips are on my website) and her DS Music company distributes my CDs worldwide (
dana-music.com
.)
I'd certainly encourage families to integrate music into their prayer. Teens and young adults very often have music as a vital part of their lives. Perhaps introduction to music that incorporates faith would lead them to making music part of their prayer. My CD "MercyPrayers" is the companion to the "MercySongs" album. We recorded several of the litanies from St. Faustina's Diary, Divine Mercy in My Soul, as well as the chaplet of Divine Mercy.
It seems that the Mercy of God, which Jesus told St. Faustina in her private locutions and apparitions is "God's greatest attiribute," is a thread through all my music. As a priest, the Lord's Mercy flows in the call/vocation, it nourishes the soul in sacraments/prayer/community life and for me, inspires songs. The latest album follows a collection of songs for praise and worship ("Lives of Praise") a project of 10 songs about priesthood ("Priest of Mine") a Christmas album ("Blanket of Stars") and my first set of songs with some Irish overtones, "Paintbrush in the Green." Having been a comedy writer, humor finds it way into song like "Holy Duct Tape"and the attempt at disco "Sunday Morning Fever."
God's plans for me have used the gifts and interests of my youth and re-directed them to the Kingdom. I would encourage faith-filled parents to encourage their young children to start asking God what He wants! And in some ways, I feel my life experiences have proven that God had a sense of humor long before Joan Rivers came along, he had the Sound of Mercy long before Maria von Trapp's convent life lead her to the "captain and seven children."
In the near future, I'm excited that the Catholic TV network of Boston (CatholicTV.com) is interested in using my new Divine Mercy chaplet melody for a new television taping of that devotion. Now that my "twins" are born (the double CD, fraternal, not identical....but the same DNA--- Mercy!) I'm hoping to record a second Christmas CD as well as an album for Our Lady. I've also been asked to consider a CD of songs for children, and that excites me, too. But all in God's time.....and not a minute sooner!
About the Author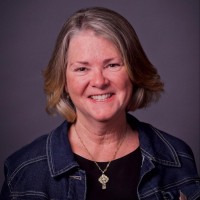 Lisa M. Hendey is the founder of CatholicMom.com, a bestselling author and an international speaker. A frequent radio and television guest, Hendey travels internationally giving workshops on faith, family, and communications. Visit Lisa at LisaHendey.com or on social media @LisaHendey for information on her speaking schedule or to invite her to visit your group, parish, school or organization. Visit Lisa's author page on Amazon.com.