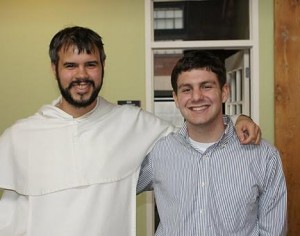 Editor's Note: I was so happy to learn recently about Brent Bowen, a great young man who has discerned a vocation to the priesthood. In order to begin his training, Brent needs to retire his student loan debt. Equally as important is the prayer support we can offer a young man who wants to give his life in service to the Church. I ask you to read Brent's story below and invite you to join me in making a small financial donation to his educational fund. If each of our families donate the cost of a cup of coffee (or more!), we can make a true difference in helping Brent. Thanks, as always, for your generosity! LMH
The first time I heard a Dominican preach was in the summer of 2010. He preached about "The God of the Unexpected" and I knew there was something about that humble friar that captivated me. He preached the Gospel with a sense of urgency, and reminded all of us assembled to never be afraid encountering Jesus. I remember reflecting on his homily thinking, "Lord if you would have told me a few years ago that I was considering joining a religious order, I would have laughed."
Certainly you can think of a moment in your own life when you recognized Jesus in a way that you had not expected; I know I certainly can. I grew up in Lewiston, a medium sized town in central Maine, born into a middle-class family that taught me about the all too common American dream. I grew up with a plan in my head: I was going to go to college, get a great job, have a big family, and live happily ever after.
However, when I went off to Embry-Riddle Aeronautical University to start on this path, I quickly realized that life my life was missing something (or rather, someone!). Upon being invited by a friend, I began to attend Mass regularly, participate in the liturgical life of the Church, and grow in greater devotion to our Lord in the Eucharist. In short, I encountered Jesus in a way that I had never expected. I grew in appreciation for the Faith I had been brought up with, and really began to let the Lord work in my life. One day I made a promise to Jesus: regardless of where I ended up in life, He would have to be a part of it.
During my third year of college, I got a great opportunity to intern with a large Fortune 500 company. I loaded my car up and drove to Dallas, Texas to learn how to make it in corporate America. Being away from my friends and family was a lot more difficult than I had anticipated. I found consolation in daily prayer, and in receiving the body and blood of our Lord each week. The time away from my normal life helped me to reflect on how the Lord had worked in me. One week after receiving the Eucharist, I began to ponder the question, "Could I be called to the priesthood?"
Then the God of the unexpected began to work in overdrive. I began a year and a half of exciting, and sometimes painful discernment. I visited a Diocesan seminary in Miami, but something did not feel right about it. I also explored the vocation to Marriage and began dating a beautiful girl, an experience which I am eternally grateful. However through all of it, I knew in my heart that Jesus was calling me to a different type of vocation.
In November of 2010, I was invited to attend a "Come and See" weekend with the Dominican Friars. I immediately fell in love with the brethren. I knew in my heart that if Jesus was calling me to be a part of his priesthood, this was where I was supposed to pursue that calling. In January, 2011, just a few short months later, I was accepted as a novice candidate for the Dominican Friars of the Province of St. Albert the Great.
I often ponder my vocation and wonder why I was so afraid to commit to the priesthood. I realize now that the God of the unexpected used the experiences of my life to mold and shape me. I don't regret my time at Embry-Riddle at all. It was through the Catholic Student Union at ERAU that I came to truly love the Lord, and grow in relationship with him. However, my vocation to the Dominicans requires that I enter free of all obligations. Men who enter into Dominican life have to be prepared for a life of poverty, and must be free of student debt. I am currently working full-time in order to resolve my debt, but I can't do it without your help. I ask for your prayers, and to prayerfully consider donating to my vocation fund.
I have set up a website, www.brentabowen.com, where you can read more about me, learn about the Dominicans, and learn how you can support my vocation. I hope that through the prayers of our Blessed Mother, you will be abundantly blessed as Christian mothers!
Yours in Christ,
Brent A Bowen
To support Brent, visit http://www.brentabowen.com/support-my-vocation/
About the Author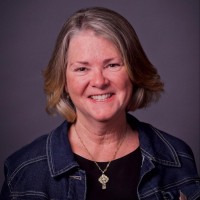 Lisa M. Hendey is the founder of CatholicMom.com, a bestselling author and an international speaker. A frequent radio and television guest, Hendey travels internationally giving workshops on faith, family, and communications. Visit Lisa at LisaHendey.com or on social media @LisaHendey for information on her speaking schedule or to invite her to visit your group, parish, school or organization. Visit Lisa's author page on Amazon.com.