I'm not a big makeover kind of gal. I've had one or two pedicures, and while they're fine, I'd just as soon invest that money in a half-hour on horseback or a really great steak. My idea of wearing makeup consists of low-key lip gloss and tinted moisturizer, which is way more time that I have ever spent on makeup in the past.
Sometimes I find myself curious as to whether a different haircut could make all the difference, but really: I'm okay with who I am. Plop a cowboy hat on my head with a pair of comfy jeans and cowboy boots, and I'm happy.
Even at age 35, I'm still very tomboy, love of shoes notwithstanding.
I am still, however, a woman. I have daughters and nieces and friends and relatives and readers who are also women.
I care about women's issues, even if I'm not decked to the nines and I request gadgets and books instead of jewelry for holidays.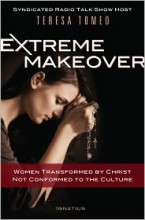 There's a lot to be said for how deeply Extreme Makeover: Women Transformed by Christ Not Conformed to the Culture, by popular talk show host and speaker Teresa Tomeo, touches on issues relating to each of us as Catholic women.
Teresa Tomeo speaks to my woman's heart. Her approach to the poison culture is feeding each of us is straightforward, no nonsense, and easy to follow.
She provides a clear dose of antidote for the malaise that's affecting us. In Extreme Makeover, Tomeo calls it like it is, adding stories from her past and witnesses of many people she's worked with over the years. This book is full of research and statistics, enough to make you throw up your hands and consider whether you need sunglasses for the sobbing you're going to do.
The most wonderful part of this book, for me, is how Tomeo doesn't stop at the pessimistic conclusion: she's a Catholic through and through and it is with that hope in hand that she provides the tools for each of us to have a spiritual makeover.
Even if you consider yourself pretty good on this front, this book has something for you. It's a guidebook for navigating the waters of life as a modern woman, complete with a chapter of testimonies, a chapter of resources, and much more.
I can't recommend this book highly enough, for you, your best friend, and every other woman in your life.
Other CatholicMom.com columns and reviews about this book:
Copyright 2012 Sarah Reinhard
About the Author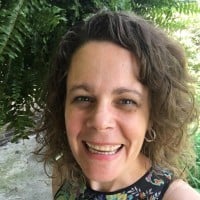 When she's not chasing kids, chugging coffee, or juggling work, Sarah Reinhard's usually trying to stay up read just one…more…chapter. She writes and works in the midst of rural farm life with little ones underfoot. She is part of the team for the award-winning Catholic Mom's Prayer Companion, as well as the author of a number of books. You can join her for a weekday take on Catholic life by subscribing to Three Shots and follow her writing at Snoring Scholar.