On Thursday, July 28th Pope Benedict XVI promulgated the decree recognizing the heroic virtue of Archbishop Fulton John J. Sheen, who is now titled "the Venerable Servant of God." In terms you and I can understand, this means that the beloved Archbishop Sheen is one step closer to sainthood. The day after this auspicious announcement, I had the opportunity to participate in a wonderful conference call with several notable priests who have played a role in the process of advancing Venerable Fulton's cause to sainthood. They included:
Bishop Daniel R. Jenky of Peoria, Illinois
Monsignor Stanley Deptula, Executive Director of the Archbishop Fulton J. Sheen Foundation in Peoria, Illinois
Father Andrew Apostoli, Vice-postulator leader for the cause for the canonization of Venerable Archbishop Fulton J. Sheen
Monsignor Richard Soseman, Coordinator of International Outreach for the Archbishop Fulton John Sheen Foundation
Father Andrew Small, Missionary Oblate of Mary Immaculate, and National Director of the Pontifical Mission Societies
Honestly, to have the opportunity to listen to these wonderful priests describe the process toward canonization and recall their personal interactions with and inspiration received from Venerable Fulton was truly amazing. So many of us have rediscovered the body of work left behind by this holy man in recent years. While our telephone conversation was wide ranging and quite informative, I thought it would be helpful to share with our readers the specific recommendations given by each of the call participants relating to terrific resources for our families to better know, love and pray through the intercession of Venerable Fulton. I'll share each of their recommendations here:
"I believe Fulton Sheen's book, The Priest is not his Own is going to go down as one of his most enduring books. It will be a great classic for priestly spirituality particularly for diocesan and parish priests... he goes on at length about the importance of the Eucharistic Holy Hour. The book from beginning to end is filled with that call to be a victim priest united in prayer with our Eucharistic Lord and has sacrificed the mass; a fantastic book for priests, for seminarians, and for all those who love priests. And of course Fulton Sheen's own autobiography, Treasure in Clay. He tells in his own word his own story and his own love for the priesthood." Monsignor Stanley Deptula
"I recommend Archbishop Fulton J. Sheen, A Man for All Media from Ignatius Press which has many photos. Many times, especially younger children, when they see a photo, they realize, 'Wow, this is a real person that Mama has been talking about.' And so, those can be good ways especially for the grade school students to learn more about Bishop Sheen. For college students, I use a book called Old Errors and New Labels." Monsignor Richard Soseman
"In the upcoming Year of Faith, the Holy Father has asked us to use the World Mission Rosary as an instrument at the heart of this prayer movement to accompany the Year of Faith which starts in October 2012. The World Mission Rosary was invented by Fulton Sheen in Lent of 1951 actually and it has five colors representing the five continents and he would say, 'When you pray the World Mission Rosary, you have given the world a hug.' So, this sense of this big world out there that you are connected to spiritually and we are connected to the Body of Christ, the church of course, and that communion... You can get one of those at onefamilyinmission.org and that's available for children and we have it in sort of a children friendly format to pray the World Mission Rosary to think about those in need and it sort of – it's appealing aesthetically also. So, that's another instrument that's a legacy of his that is now being adapted by the Holy Father and promoted for the entire world joining this Year of Faith." Father Andrew Small
In addition to the terrific books and resources recommended by the panel of priests, you'll want to definitely check out the DVD "A Family Retreat with Archbishop Fulton J. Sheen" from Ignatius Press as yet another way of introducing your family to Venerable Fulton.
As we continue to pray through the intercession of Venerable Archbishop Fulton J. Sheen , I invite you to visit the terrific website CelebrateSheen.com where you will find official information about his life and a very special celebration being planned to mark this advancement in his cause for canonization. On Sunday, September 9, 2012, at 10:30 am Bishop Jenky will celebrate a Mass of Thanksgiving to honor Venerable Fulton Sheen in the Cathedral of Saint Mary, Peoria, IL — the same cathedral in which Venerable Fulton grew up, received his vocation to the priesthood and was ordained. You are invited to this historic celebration.
To close, I wanted to share with you one of the many inspirational quotes that share with us the wisdom of Venerable Fulton:
Because God is full of life, I imagine each morning Almighty God says to the sun, "Do it again"; and every evening to the moon and the stars, "Do it again"; and every springtime to the daisies, "Do it again"; and every time a child is born into the world asking for curtain call, that the heart of the God might once more ring out in the heart of the babe. Archbishop Fulton J. Sheen, Life is Worth Living
As new generations of families discover for themselves the passion of this man for our faith, I invite you to celebrate this moment of history for our Church in the United States and indeed our entire world. Venerable Fulton, pray for us!
Copyright 2012 Lisa M. Hendey
About the Author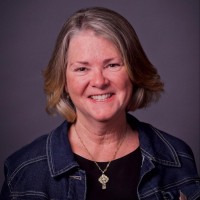 Lisa M. Hendey is the founder of CatholicMom.com, a bestselling author and an international speaker. A frequent radio and television guest, Hendey travels internationally giving workshops on faith, family, and communications. Visit Lisa at LisaHendey.com or on social media @LisaHendey for information on her speaking schedule or to invite her to visit your group, parish, school or organization. Visit Lisa's author page on Amazon.com.