Big news today out of the Diocese of Peoria: the 7-member board of medical experts who advise the Congregation for the Causes of the Saints at the Vatican unanimously approved a reported miracle attributed to the intercession of the Venerable Servant of God Archbishop Fulton Sheen. Definitely take a moment to read the full press release.
I have to share that this news today has me alternating between tears of joy and happy dancing. I have had a strong personal devotion to Venerable Fulton and regularly pray through his intercession for the work I do. He was a master of Catholic communications long before many of us were even born, using the latest technology of his time to share his passion for the Gospel. For those of us who devote ourself to the New Evangelization, he is a mentor, a role model and an intercessor.
Today's news brought me back to the joyous opportunity I had to attend the Mass of Thanksgiving in the Diocese of Peoria in 2012 when Sheen was made Venerable Servant of God. On that day, I made a new friend, Bonnie Engstrom. Bonnie is the beautiful blogger behind A Knotted Life. Together with her husband Travis, Bonnie is a busy parent to five precious souls. Included among the five is the child mentioned in that press release:
The case involved a still born baby born in September 2010. For over an hour the child demonstrated no signs of life as medical professionals attempted every possible life saving procedure, while the child's parents and loved ones began immediately to seek the intercession of Fulton Sheen. After 61 minutes the baby was restored to full life and made a full recovery. The child, now three years old, continues in good health.
If you were to meet Bonnie and Travis, you would never know that this miracle happened in their home. They are humble, faith-filled, and just like any other Catholic family in the pew with you. But there's a difference: their son James Fulton is a living miracle, a sign of God's amazing love. In typical fashion, when I reached out in exuberance to Bonnie today, she so kindly reminded me that the focus on this day should not be on their family, but truly on this amazing man -- soon to hopefully be a saint -- who continues to point us all towards God and his goodness.
Bonnie has posted on her blog today and rightly reminds us to continue to pray for the cause of Archbishop Fulton Sheen and to support it with our contributions. Another fitting Lenten almsgiving idea might be to support the work of the Pontifical Mission Societies during the season of Lent in honor of and gratitude for their former National Director, Venerable Fulton.
I thought I would leave you with just a few photos of the day I met the Engstrom family -- I think they point to both the beauty of a Catholic family just like ours and the glory of a day of Thanksgiving for the life of a saintly man.
[gallery columns="2" ids="58189,58188,58187,58186,58185,58184,58183"]
Heavenly Father, source of all holiness, You raise up within the Church in every age men and women who serve with heroic love and dedication. You have blessed Your Church through the life and ministry of Your faithful servant, Archbishop Fulton J Sheen. He has written and spoken well of Your Divine Son, Jesus Christ, and was a true instrument of the Holy Spirit in touching the hearts of countless people.
If it be according to Your Will, for the honor and glory of the Most Holy Trinity and for the salvation of souls, we ask You to move the Church to proclaim him a saint. We ask this prayer through Jesus Christ, our Lord. Amen.

Imprimatur: +Most Reverend Daniel R. Jenky, C.S.C., Bishop of Peoria
Copyright 2014 Lisa M. Hendey
About the Author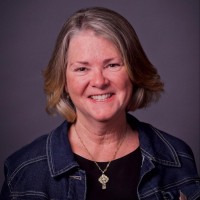 Lisa M. Hendey is the founder of CatholicMom.com, a bestselling author and an international speaker. A frequent radio and television guest, Hendey travels internationally giving workshops on faith, family, and communications. Visit Lisa at LisaHendey.com or on social media @LisaHendey for information on her speaking schedule or to invite her to visit your group, parish, school or organization. Visit Lisa's author page on Amazon.com.