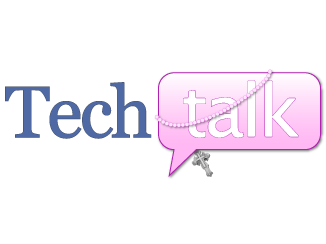 It is true what they say; you learn something new every day. Today, I wanted to review the Catholic app God On-The-Go. So I pulled out my handy-dandy Android phone and began searching for it, but I could find nothing.

Being the secret sly sleuth that I am, I went to the Word of God to Go website to try and figure out where it could be hiding. As I was reading the product description, I saw the word "tablet app."
Super Sleuth Gingras jumped into action; researching further I discovered that there are indeed apps that will only work on my Pantech Element (aka my Android tablet). (I couldn't wait to vindicate myself with my husband, who did not believe me when I bought both the tablet and the smart phone together, but NOW I can say that I did indeed NEED them both!)
With that mystery solved it is time to get back to our regular scheduled program and the reviewing of God On-The-Go app.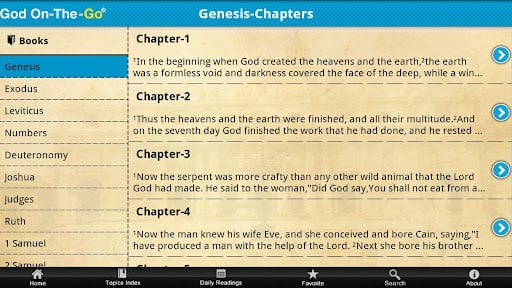 This product was originally released as a USB version, and you can still purchase it in that format. I purchased it for my trip to China when I traveled to adopt my daughter in 2009. I thought it would be much easier pack along with my mini-computer. Back then, I was still part of the 'stupid' phone world and was unsure of Internet availability, so this Bible on a USB seemed like the perfect solution. And it was.
Three years later technology has evolved and I was excited to find this Catholic Bible program was now available in the Android format (it is also available for iPad), but what I wasn't too excited for was the $19.99 price tag.
Why I Bought It:
I have been told I have rationalization issues, which may be so, but here were reasons I gave myself for splurging on this product:
I have many free or low-cost Bible applications on my phone and tablet, but none were able to do adequate searches nor did they have a Topic Index ;
I did not have one yet that provided me the ability to easily share verses (especially with my own added comments) on social media;
I like to support companies trying to make a difference in Catholic media;
Finally, I was really sold after reading following description from the App Store: "God On-The-Go (R) is the only Android version of the Catholic Bible that enables the user to truly immerse themselves in God's Holy Word. Only God On-The-Go (R) has the means of saving, adding comments and sharing favorite verses of the bible through Facebook, Twitter and Email." It just felt like this App was providing the whole package that I had been searching for.
App Features:
Book Index – The screen is cleverly organized, so that the left-hand side of your screen is a table with all the books of the Bible, then on the right is a separate table which list every chapter in that particular book, along with the first few lines of the chapter (see inset picture). Not only did I like the uncluttered feel to this format but also, believe it will be helpful for those times you have a general idea where you can find the scripture you are thinking of, because you know a few of the words or context, but don't know the exact address.
Topic Index – The index was very extensive and probably one of my favorite features. You are able to search through the Bible of topics such as hope, love, or forgiveness. Set up in the same layout as the Book Index, but for this page the left-hand table lists the Bible verses recovered on the search, and on the right is the words of only the verse you have selected to review from the left. It was so clean and easy to read, because there was no long list of possible verses to scrolling down through and decipher.
Daily Readings – When you select the Daily Readings icon, a calendar opens making it easy to select readings from any day past, present or future. The downside to this feature is that it does require Internet service. The calendar is linked to the daily readings on the United States Conference of Catholic Bishops (USCCB) website, which provides you even more wonderful resources.
General Search – This search is invaluable, and what makes using an electronic bible often edge out the use of a bound one for me. Searches save time and energy, allowing the user the luxury of using the extra time and energy on contemplating God's word instead. This works the same as the topic index search, including the word being searched appears as highlighted within the verse.
Favorites – In order to use the cool posting to social media feature, a verse must first be "add to Favorites."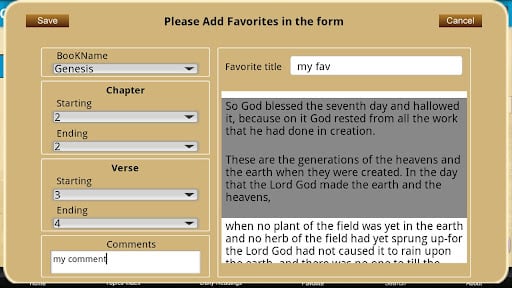 Then the user has the option of posting to Facebook, Twitter, or Email. The first message I sent, I did not notice the message window popped up for editing, I added my comment, and sent it off.
I expected the entire scripture to be written out after transfer, but instead it appeared just as the citation for the scripture, then the program kept in the word "comment" followed by the actual comment. It wasn't at all what I had hoped for but quickly discovered a quick remedy.
The transfer window opens up right under the verse (so that it is still visible). I choose to Swype in the verse myself. I considered the copy work, which I so happily hand over to my kids for their benefit would certainly benefit me in this situation.
It gave me an opportunity to look at the verse again, contemplate the meaning more, and even work at memorizing it. Once I entered the verse, and deleted the word "comment" from the post – I was very pleased with this feature of the program, and it was still easy to use!
Why should we have a Bible on the go?
In today's world most of us wouldn't dream of leaving the house without our cell phone, ATM card, car keys, and even a coffee. While all those things are very important, each pales in comparison to the importance of God's word.
We are entering into "The Year of Faith," a year of learning more of the New Evangelization. Technology will be an enormous part of this time of reaching out, inviting in, and explaining our faith. It is God's living Word, yet the Bible has to be the most undervalued, underused book ever written.
As Catholics, we need to stop being so afraid to open this book, to believe that we cannot understand it or find what we need within it. It was created for instructing, encouraging, and enlightening. In its chapters and verses, we can understand better who God really is, and our relationship to him.
This app is a terrific to way to bring God's wisdom with us wherever we go. You will be able to quickly (or leisurely) look up and have the words we need in whatever particular situation where are in or in whatever we are trying to pray about at that moment.
Read more of our Tech Talk columns.
Copyright 2012 Allison Gingras
About the Author